Commuter

London

Regeneration

Specialist

UK

Ungeared
Investment Case
Investors paid 22.66p per share in the New Listing for this property, and it became available on the Resale market December 15th 2014.
The investment rationale for this property includes the possibility for capital growth outperformance relative to surrounding areas driven by local regeneration within the London Borough of Croydon, combined with strong income returns driven by tenancy type and associated capital discount.
Here is how that has compared to our valuation of the property:
The RICS Chartered Surveyor's report stated a VP Value of £275,000 on November 19th

 

2014
The total notional purchase price was £222,690. This represented a discount of 19% to VP Value
The Latest Valuation is based on a more recent Chartered Surveyor's valuation. When calculating the Latest Valuation we have kept the discount to VP value constant at 19%.
You can read more on the investment case here.
+ More
- Less
Property Detail
Owing to the reduced market for this property, namely exclusion of owner-occupiers, it typically would not achieve the same price as an equivalent property sold with vacant possession ("VP"). Having consulted with advisors, we benchmarked 10-15% as a reasonable discount to VP Value as a result of the tenancy type.

This property is subject to an Assured Periodic Tenancy ("AT"). This is a modern form of tenancy created under the Housing Act 1988 ("HA 88") alongside the more familiar Assured Shorthold Tenancy. Both are at a market rent, however, the principal difference is that the AT conveys security of tenure upon the tenant. The HA 88 sets out the grounds by which the tenancy can be terminated however properties subject to this form of tenancy should be priced accordingly.
The advantage of an AT, provided that it has been priced correctly, and on the assumption that the tenant remains in occupation, is that there are no void or reletting costs, which enhances Dividends paid to investors. Accordingly, we are able to reduce the advertising, letting and management charges for this property from 10.5% (+ VAT) to 6% (+ VAT) for the duration that the property remains subject to an AT.
The current tenant has remained in occupation since 2000 and it is a reasonable assumption that she will remain in occupation for the foreseeable future. Although we do not anticipate any loss of rent due to voids we have assumed a "gross to net" profile consistent with long run IPD data that measures performance within residential property funds.
Due to over performance against historic provisions, there is surplus cash within the SPV. This is being returned to investors through the dividend over the remainder of the 5 year term. In the "Financials" section below, under "Rental Income Breakdown", we have shown the impact of returning this cash as a negative number in the "Property Insurance" line (presentation within Property Insurance is a temporary measure whilst our platform is updated to add a new descriptor).

This results in a forecast Dividend Yield of 3.53% based on the Latest Share Valuation (fully accounting for fees, purchase costs, repairs provision, estimated maintenance, insurance and corporate taxation). From April 2016 UK taxpayers are entitled to a £5,000 annual dividend allowance. See our FAQs here for more information.
+ More
- Less
Floorplan
An end of terrace house arranged over two floors, with a larger than average rear garden.
The ground floor comprises two reception rooms, a kitchen, bathroom and conservatory.
The first floor comprises three bedrooms, although one, on the mezzanine level, is currently used as a utility room.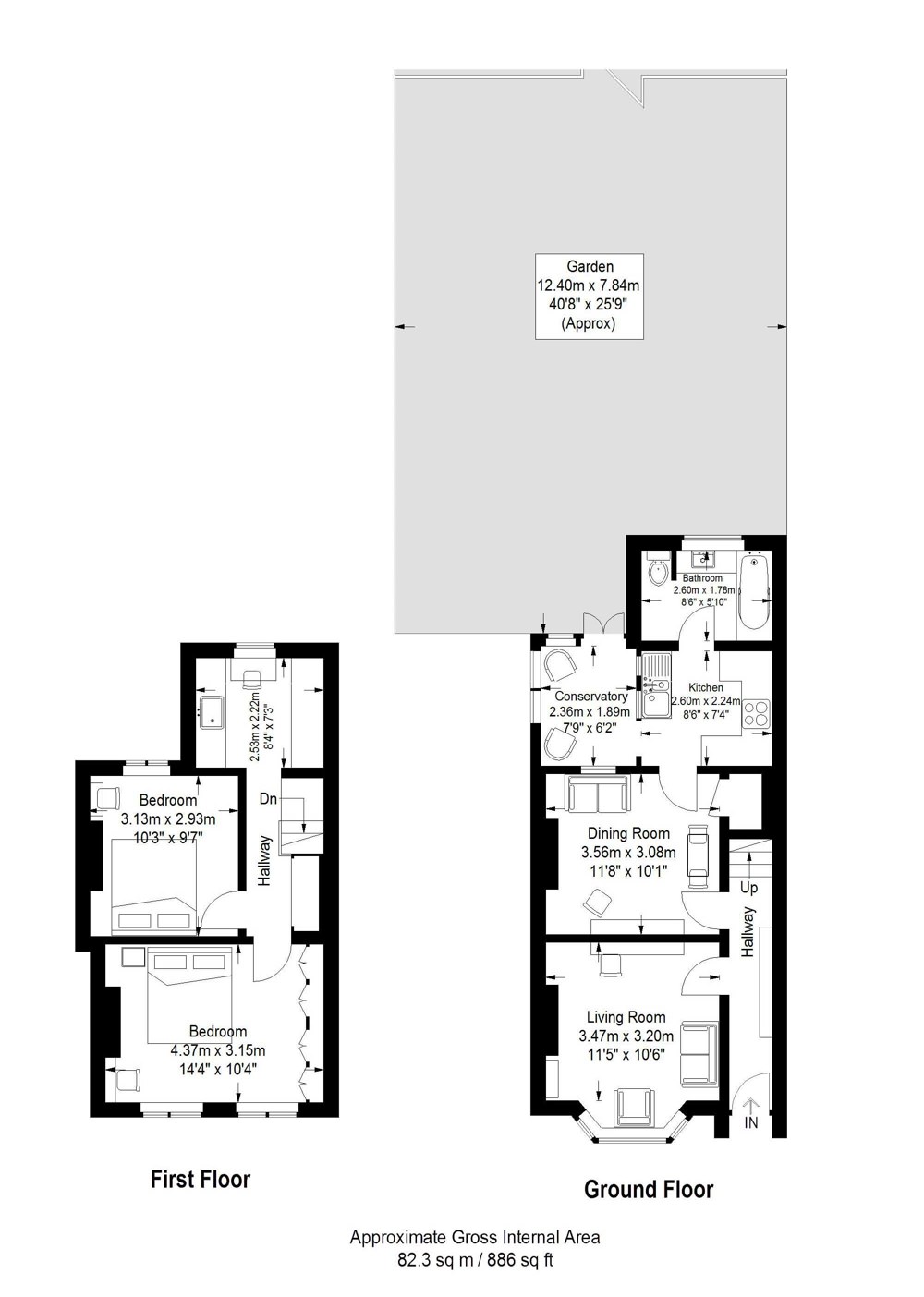 Zoom
Financials
Share Valuation
House Price Index
Rental Income Breakdown
Latest Valuation

£271,663
Shares

1,000,000
=
Latest Share Valuation

27.17p
Latest Property Value

£279,450
Amortised Purchase Costs

£1,724
Deferred Tax

- £9,511
Latest Valuation

£271,663
Note: The estimates provided do not constitute valuation advice; it remains your responsibility to determine valuation.
Land Registry Data Croydon
The HPI is an official statistic that captures changes in the value of residential properties across England and Wales. It is published by the Land Registry, which is a UK government organisation.
3 Years
+11.4% Annualised
5 Years
+11.4% Annualised
Note: Past performance is not a reliable indicator of future results.
Residential property investment is a total returns product. This information is the income component only. Increasing capital values have historically driven most of the return.
Gross Rent per year (E)

£14,400
Service Charges

- £0
Gross Rental Revenue

= £14,400
Gross Rental Yield

5.15%
Costs

- £4,582
Letting and Management

£1,037
Property Insurance

-£619
Maintenance Allowance

£1,861
Corporation Tax

£2,303
Dividends per year

= £9,818
Note: UK taxpayers are currently entitled to a £5,000 annual dividend allowance. This means that the total income related tax you pay is no greater than if you were to own the property directly. Gross rent and dividends may be lower than estimated. Tax treatment depends on individual circumstances and may be subject to change in future. See FAQs for more information on taxation. The Dividend Yield assumes an investment at the Latest Valuation.
Location
114, Fairholme Road, Croydon, London, CR0 3PH,