Investment Case
Investors paid 66.09p per share in the New Listing for this property, and it became available on the Resale market November 23rd 2016.
As our first venture into 'God's own county' of Yorkshire, Stackyard Farm is an excellent opportunity to take advantage of the stronger yields that can be found in the North. It is made up of nine houses, including the original farmhouse and a 2-bedroom flat. The area is short of family rental properties, so demand is high with all the units fully tenanted. Stackyard Farm is offered with gearing to enhance dividend yield and potential capital returns. View a short video from our Director of Property on why this is a great investment.
The investment comprises nine houses and a two-bedroom flat in Stackyard Farm, Staxton which are all held Freehold and is geared at 55% loan-to-value (LTV) of the purchase price. Gearing gives enhanced exposure to property price movements, and the potential for amplified returns; though investors must note amplified negative returns if prices fall.
By purchasing the properties at their investment value as opposed to their break-up value, investors will benefit from a higher net dividend yield than they would achieve by purchasing individual units.
Our properties are located in an attractive rural village, ideal for families willing to commute for more outside space and are a mere 18 minute drive to Scarborough. 
Our exit strategy is to sell the investment as a single holding to an investor. This will preserve its value as an income producing freehold block, and ensure an efficient and timely sale.
+ More
- Less
Property Detail
The mortgage is provided by a major high street bank with a five-year fixed interest rate of 3.2%. After this five-year period, the interest rate will switch to a variable rate based on the bank's base rate. At that point, we will assess the situation and either continue with the variable rate or fix the interest rate for an additional period if necessary. For prudence, we have not included any growth in rental values in our forecasts. Please refer to our blog post on geared property for further details.
Our investment comprises 10 properties (1 two-bedroom flat, 1 two-bedroom house, 1 three-bedroom house, 6 four-bedroom houses and 1 five-bedroom house), that are all held with Freehold titles. By purchasing these properties at a bulk discount investors will benefit from a higher dividend yield than they would achieve by purchasing individual units.
The properties were acquired in good condition, and the Chartered Surveyor's report identifies no material issues. We have made a provision of £6,000 for any remedial works that further testing reveals. There is also a provision of £6,000 for furnishings.
All 10 units are currently tenanted but the number of vacant units may vary month to month. Therefore, we have factored into our forecasts an annual void rate of 3.8% for prudence. The total rent forecast is £78,360 per annum.
At the forecasted level of rent, Gross Rental Yield would be 5.96% and the forecast Dividend Yield 4.33% (fully accounting for and after mortgage interest payments, purchase costs, furnishings, forecast maintenance, annual voids, corporate taxation and all fees). From April 2016 UK taxpayers are entitled to a £5,000 annual dividend allowance. See our FAQs here for more information.
This transaction was approved by our RICS qualified Director of Property.
+ More
- Less
Floorplan
The investment comprises 10 properties - 1 two-bedroom flat, 1 two-bedroom house, 1 three-bedroom house, 6 four-bedroom houses and 1 five-bedroom house. We present here floorplans for 3 of the properties as examples.
There is off street parking available for tenants.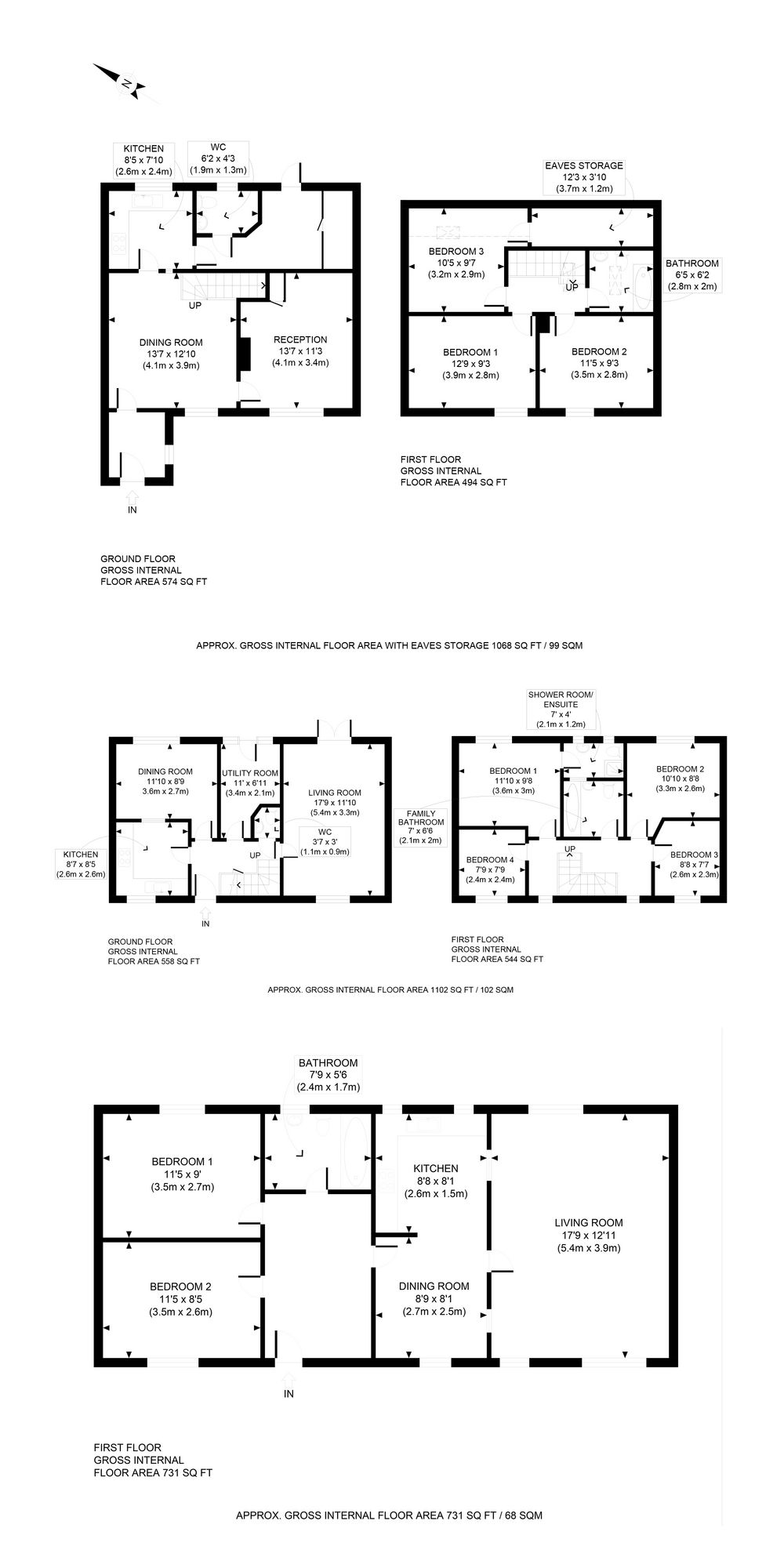 Zoom
Financials
Share Valuation
House Price Index
Rental Income Breakdown
Latest Valuation

£671,852
Shares

1,000,000
=
Latest Share Valuation

67.19p
Latest Property Value

£1,315,000
Amortised Purchase Costs

£72,892
Mortgage

- £716,040
Latest Valuation

£671,852
Note: The estimates provided do not constitute valuation advice; it remains your responsibility to determine valuation.
Land Registry Data Ryedale
The HPI is an official statistic that captures changes in the value of residential properties across England and Wales. It is published by the Land Registry, which is a UK government organisation.
Note: Past performance is not a reliable indicator of future results.
Residential property investment is a total returns product. This information is the income component only. Increasing capital values have historically driven most of the return.
Gross Rent per year (E)

£78,360
Service Charges

- £0
Gross Rental Revenue

= £78,360
Gross Rental Yield

5.96%
Costs

- £48,547
Annual Interest Payment

£22,913
Letting and Management

£9,418
Property Insurance

£1,500
Allowance for possible voids

£3,014
Maintenance Allowance

£4,709
Corporation Tax

£6,993
Dividends per year

= £29,813
Note: UK taxpayers are currently entitled to a £5,000 annual dividend allowance. This means that the total income related tax you pay is no greater than if you were to own the property directly. Gross rent and dividends may be lower than estimated. Tax treatment depends on individual circumstances and may be subject to change in future. See FAQs for more information on taxation. The Dividend Yield assumes an investment at the Latest Valuation.
Location
Stackyard Farm, Staxton, Scarborough, YO12 4BY,