Crossrail

London

UK

Ungeared
Investment Case
Investors paid 59.03p per share in the New Listing for this property, and it became available on the Resale market December 9th 2015.
This end-of-terrace 3-bedroom Victorian house in Hanwell, West London is located in a high-growth Crossrail area near several employment hubs and popular schools.
We believe that Hanwell and this property have a compelling investment case, which is underpinned by three factors:
Crossrail will start running from Hanwell station in 2019. JLL forecasts property price growth of +46% between the end of 2014 and 2020 for properties within 750m of Hanwell Crossrail station. Being just 800m from the station, this property should see similar benefits. 
Hanwell benefits from proximity to some major businesses and employers, such as Ealing Hospital. This particular three-bedroom property also falls into the catchment areas of popular primary schools - St Mark's, Oaklands and St Joseph's, as well as a number of popular secondary schools, adding to the attraction of this family home to the rental market.
London's population continues to grow much faster than it can build new housing, so people are moving out from the centre. Hanwell should continue to be attractive to wealthy professionals who are willing to commute to have more living space.

You can read more on the investment case here.
Important Note
Property Partner does not provide advice and nothing in this Overview should be construed as investment or tax advice. The information which appears in this Overview is for general information purposes only and does not constitute specific advice.

+ More
- Less
Property Detail
The house was acquired vacant and in good condition. The Chartered Surveyor's report highlights that the chimney breast has been removed internally. To confirm the adequacy of the works, we obtained a structural survey which concluded that the works were carried out a considerable time ago and the property has not suffered damage as consequence. 
The report suggests works that can be undertaken to provide additional support and we have adopted a £2,500 provision to complete these. We have also made a precautionary provision of £4,200 for tests that are required and any remedial works that the testing reveals (total repairs provision of £6,700). There is also a provision of £3,000 for furnishings.
The total rent forecast is £24,000 per annum. For prudence we have factored into our forecasts an annual void rate of 3.8%.
At this level of rent, the Gross Rental Yield is 3.81% and the forecast Dividend Yield 2.31% (fully accounting for purchase costs, furnishings, remedial cosmetic works, forecast maintenance, annual voids, corporate taxation and all fees). From April 2016 UK taxpayers are entitled to a £5,000 annual dividend allowance. See our FAQs here for more information.
We haven't included any growth in rental values in our forecasts, which is simply a precaution. However, it is worth noting that JLL forecast rental growth of +34% through to 2020, for the area around Hanwell station.
This transaction was approved by our RICS qualified Director of Property.
+ More
- Less
Floorplan
A two-storey three bedroom house. On the ground floor there is a reception room, kitchen, separate dining room and bathroom. The first floor consists of a master bedroom and two further bedrooms as well as a separate family bathroom.
This property also benefits from a front and rear garden.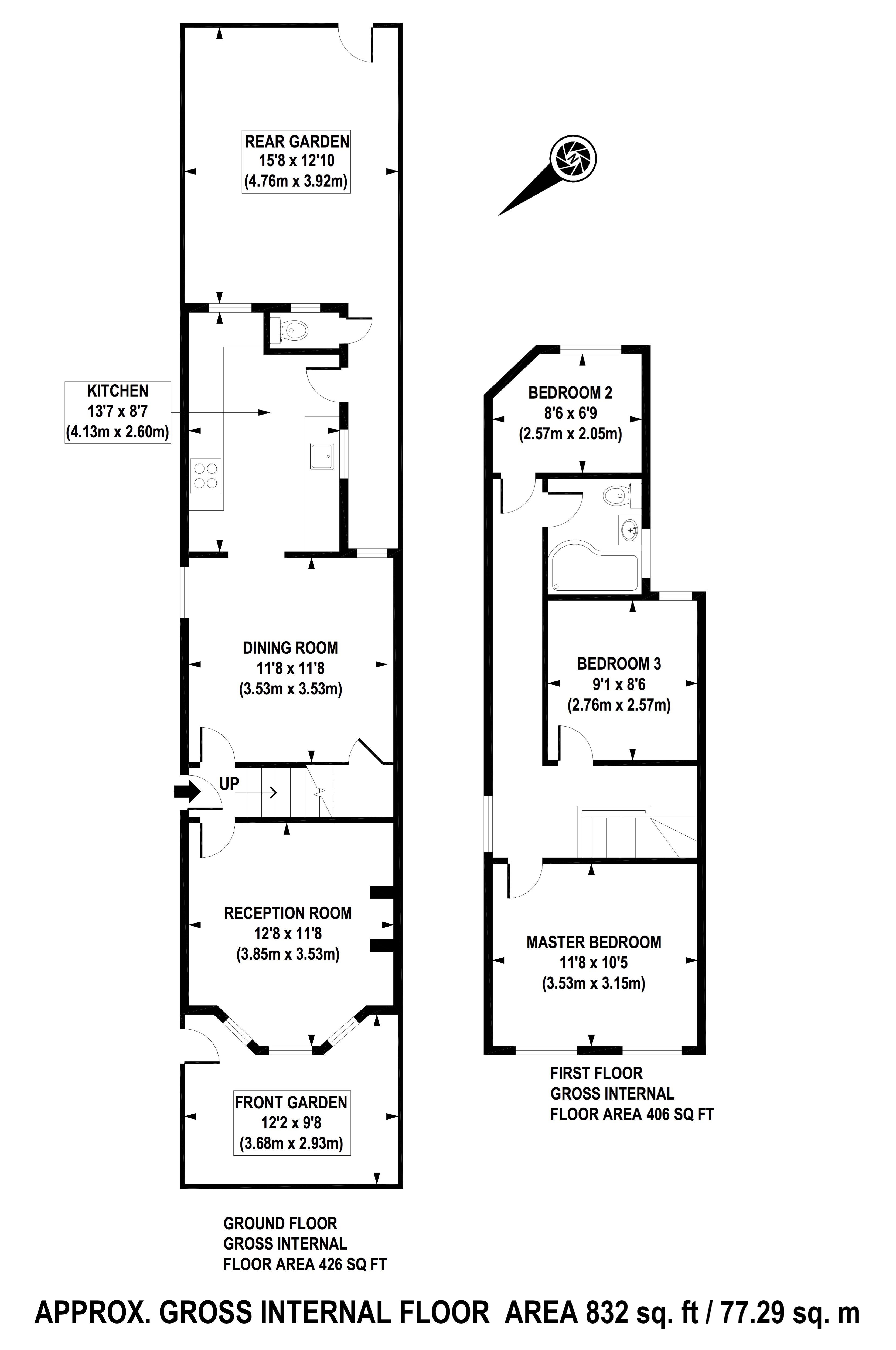 Zoom
Financials
Share Valuation
House Price Index
Rental Income Breakdown
Latest Valuation

£641,961
Shares

1,000,000
=
Latest Share Valuation

64.20p
Latest Property Value

£630,000
Amortised Purchase Costs

£19,320
Deferred Tax

- £7,359
Latest Valuation

£641,961
Note: The estimates provided do not constitute valuation advice; it remains your responsibility to determine valuation.
Land Registry Data Ealing
The HPI is an official statistic that captures changes in the value of residential properties across England and Wales. It is published by the Land Registry, which is a UK government organisation.
Note: Past performance is not a reliable indicator of future results.
Residential property investment is a total returns product. This information is the income component only. Increasing capital values have historically driven most of the return.
Gross Rent per year (E)

£24,000
Service Charges

- £0
Gross Rental Revenue

= £24,000
Gross Rental Yield

3.81%
Costs

- £8,798
Letting and Management

£2,885
Property Insurance

£270
Allowance for possible voids

£923
Maintenance Allowance

£1,154
Corporation Tax

£3,566
Dividends per year

= £15,202
Note: UK taxpayers are currently entitled to a £5,000 annual dividend allowance. This means that the total income related tax you pay is no greater than if you were to own the property directly. Gross rent and dividends may be lower than estimated. Tax treatment depends on individual circumstances and may be subject to change in future. See FAQs for more information on taxation. The Dividend Yield assumes an investment at the Latest Valuation.
Location
5 Cambridge Road, Acton, London, W7 3PA,