Crossrail

London

UK

Ungeared
Investment Case
Investors paid 20.42p per share in the New Listing for this property, and it became available on the Resale market July 28th 2015.
We believe that this maisonette and the area of West Drayton have a compelling investment case, which is underpinned by three factors:
West Drayton Crossrail station is due to open in the area in 2019. The decrease in journey times to central London is expected to have an impact on local GDP, which is a key driver of house prices.
We note that West Drayton's average property values are below those of surrounding areas – such as Iver, Langley and Uxbridge. This provides opportunity for capital growth as residents in nearby areas seek better value relative to where they live today.
The area benefits from many nearby businesses and amenities, including Hillingdon Hospital, Stockley Business Park and Heathrow Airport - attracting many employees who will be looking to rent locally.
Read more detail on the investment case here.
Important Note
Property Partner does not provide investment advice and any general information is provided to help you make your own informed decisions. If you are unsure whether an investment is suitable for you, you should contact a financial adviser for advice.
+ More
- Less
Property Detail
The maisonette was acquired vacant and in good condition. The Chartered Surveyor's report identifies no issues. However, we have made a provision of £1,600 for tests that are required, for any remedial works that the testing reveals, and for white goods. There is also a provision of £1,200 for furnishings.
It is worth noting that the property has an unexpired term of 69 years remaining on the lease, which has allowed us to negotiate an attractive purchase price of £182,500.
It is our intention to arrange for a lease extension, following the purchase of the property. The lease can be extended either by negotiation with the freeholder, or through the exercise of a statutory right established after two years of ownership. Our Director of Property, an RICS qualified Chartered Surveyor, estimates the cost of statutory lease extension at a maximum of £15,000 including legal costs. Accordingly, we are making a £15,000 provision for the lease extension, but hope to secure it for £10,000 and will return any saving in full to investors.
We believe the value uplift associated with the lease extension will be at least equivalent to the cost of the lease extension.
The total rent forecast is £11,100 per annum. For prudence we have factored into our forecasts an annual void rate of 3.8%.

After accounting for building service charges, payable to the Freeholder for block management, as well as maintenance and insurance of the building, this equates to an enhanced Gross Rental Yield of 4.67% and a forecast Dividend Yield of 2.88% (fully accounting for purchase costs, furnishings, remedial cosmetic works, forecast maintenance, annual voids, corporate taxation and all fees). UK taxpayers are entitled to a 10% dividend tax credit, prior to April 2016. After this date, the credit is to be replaced with a £5,000 annual dividend allowance. See our FAQs here for more information.

We haven't included any growth in rental values in our forecasts, which is simply a precaution. However, it is worth noting that Savills forecast rental growth for London (excluding 'prime' central London markets) of 29.5% over the five years from January 2015.
This transaction was approved by our RICS qualified Director of Property.
+ More
- Less
Floorplan
A one-bedroom first-floor maisonette with its own front door. The maisonette has a separate kitchen, bedroom, bathroom and living room.
The maisonette has the benefit of an off-street parking bay and a large garden to the rear of the property.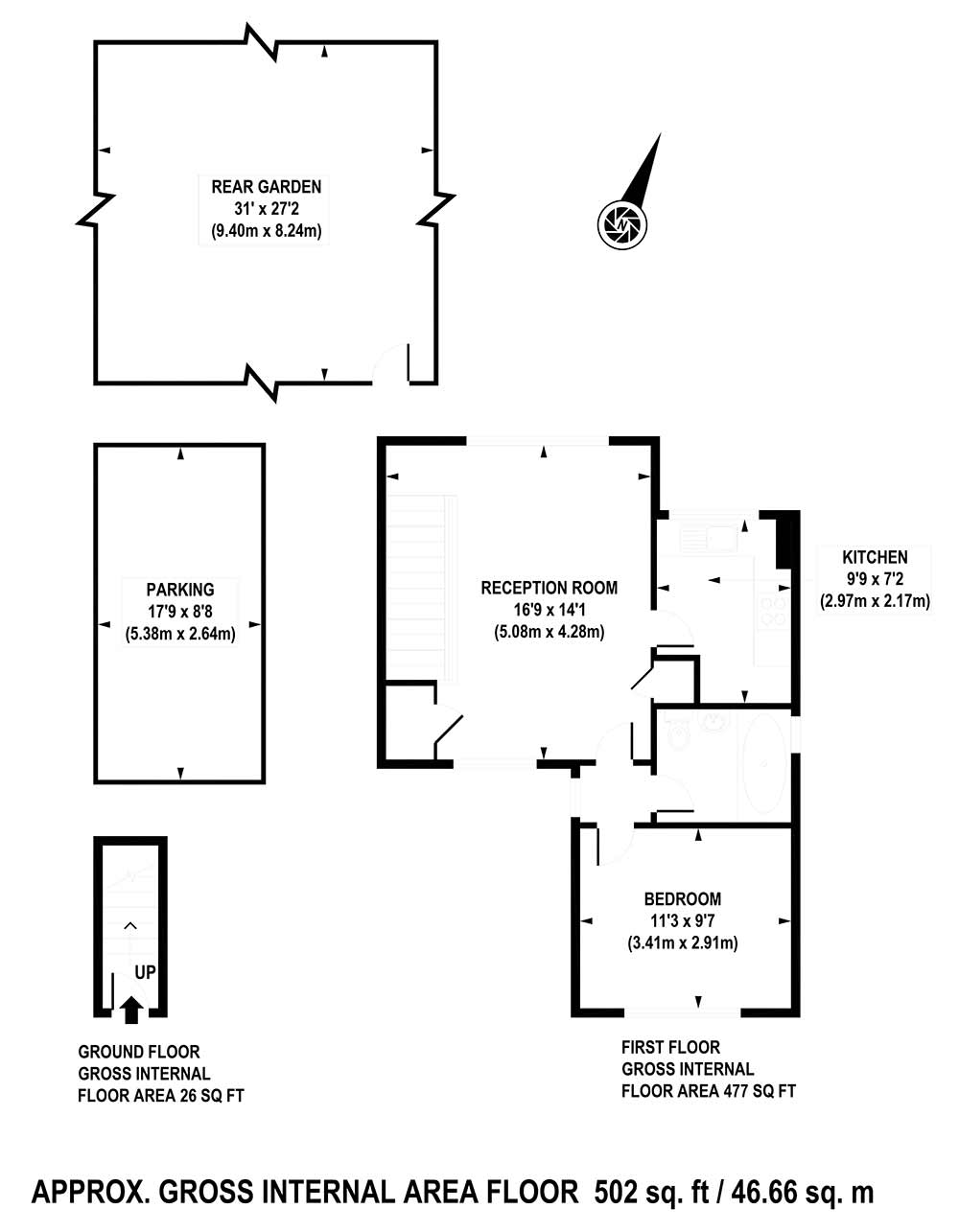 Zoom
Financials
Share Valuation
House Price Index
Rental Income Breakdown
Latest Valuation

£225,126
Shares

1,000,000
=
Latest Share Valuation

22.51p
Latest Property Value

£225,000
Amortised Purchase Costs

£3,782
Deferred Tax

- £3,656
Latest Valuation

£225,126
Note: The estimates provided do not constitute valuation advice; it remains your responsibility to determine valuation.
Land Registry Data Hillingdon
The HPI is an official statistic that captures changes in the value of residential properties across England and Wales. It is published by the Land Registry, which is a UK government organisation.
Note: Past performance is not a reliable indicator of future results.
Residential property investment is a total returns product. This information is the income component only. Increasing capital values have historically driven most of the return.
Gross Rent per year (E)

£11,100
Service Charges

- £600
Gross Rental Revenue

= £10,500
Gross Rental Yield

4.67%
Costs

- £3,854
Letting and Management

£1,334
Property Insurance

£0
Allowance for possible voids

£427
Maintenance Allowance

£534
Corporation Tax

£1,559
Dividends per year

= £6,646
Note: UK taxpayers are currently entitled to a £5,000 annual dividend allowance. This means that the total income related tax you pay is no greater than if you were to own the property directly. Gross rent and dividends may be lower than estimated. Tax treatment depends on individual circumstances and may be subject to change in future. See FAQs for more information on taxation. The Dividend Yield assumes an investment at the Latest Valuation.
Location
6, Ryeland Close, West Drayton, London, UB7 8AT,