Crossrail

London

Regeneration

UK

Ungeared
Investment Case
Investors paid 21.18p per share in the New Listing for this property, and it became available on the Resale market October 29th 2015.
This beautifully presented one-bed flat is in a modern waterside development just 50m from Hayes Crossrail station.
The investment case is underpinned by three factors:
Crossrail will start running from Hayes & Harlington station in 2018.

 

JLL forecasts property price growth of +41%

 

between the end of 2014 and 2020 for properties within 750m of Hayes & Harlington station. Our property is just 50m from the station. 
In 2013, the council approved the £250m redevelopment of a 17-acre former industrial site in the area. The Old Vinyl Factory, close to the Crossrail station, is forecast to deliver 4,000 jobs, 650 homes and 750,000 sq ft of commercial and leisure space in Hayes by 2022.
Hayes, which used to be largely industrial, is on its way to becoming a business and high-tech hub. For example, Boris Johnson, the former Mayor of London, allocated £7.7m to help build an incubator focused on 3D printing in Hayes.

You can read more on the investment case, here.
Important Note
Property Partner does not provide advice and nothing in this Overview should be construed as investment or tax advice. The information which appears in this Overview is for general information purposes only and does not constitute specific advice.
+ More
- Less
Property Detail
The flat was acquired vacant and in good condition. The Chartered Surveyor's report identifies no issues. We have made a precautionary provision of £1,200 for tests that are required and any remedial works that the testing reveals. There is also a provision of £1,200 for furnishings.
The total rent forecast is £12,600 per annum. For prudence we have factored into our forecasts an annual void rate of 3.8% and have not included any growth in rental values.
At this level of rent, the Gross Rental Yield is 4.17% and the forecast Dividend Yield is 2.57% (fully accounting for purchase costs, furnishings, remedial cosmetic works, forecast maintenance, annual voids, corporate taxation and all fees). From April 2016 UK taxpayers are entitled to a £5,000 annual dividend allowance. See our FAQs here for more information.
We haven't included any growth in rental values in our forecasts, which is simply a precaution. However, it is worth noting that JLL forecast rental growth of +27% through to 2020, for the area around Hayes station.
This transaction was approved by our RICS qualified Director of Property.
+ More
- Less
Floorplan
A one-bedroom first-floor flat with a separate living room, kitchen and bathroom.
The flat has the benefit of a private balcony.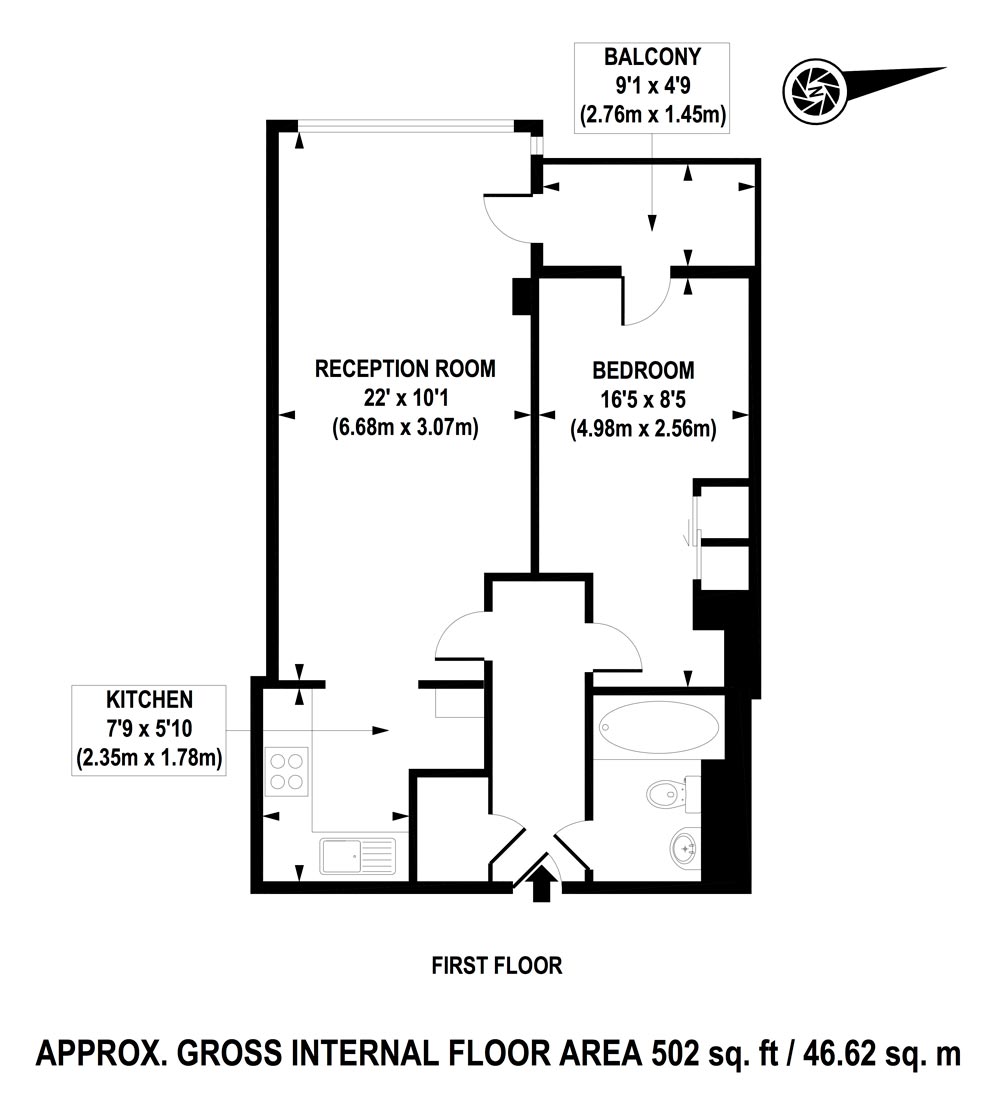 Zoom
Financials
Share Valuation
House Price Index
Rental Income Breakdown
Latest Valuation

£260,146
Shares

1,000,000
=
Latest Share Valuation

26.01p
Latest Property Value

£265,000
Amortised Purchase Costs

£4,182
Deferred Tax

- £9,037
Latest Valuation

£260,146
Note: The estimates provided do not constitute valuation advice; it remains your responsibility to determine valuation.
Land Registry Data Hillingdon
The HPI is an official statistic that captures changes in the value of residential properties across England and Wales. It is published by the Land Registry, which is a UK government organisation.
Note: Past performance is not a reliable indicator of future results.
Residential property investment is a total returns product. This information is the income component only. Increasing capital values have historically driven most of the return.
Gross Rent per year (E)

£12,600
Service Charges

- £1,544
Gross Rental Revenue

= £11,056
Gross Rental Yield

4.17%
Costs

- £4,211
Letting and Management

£1,514
Property Insurance

£0
Allowance for possible voids

£485
Maintenance Allowance

£606
Corporation Tax

£1,606
Dividends per year

= £6,845
Note: UK taxpayers are currently entitled to a £5,000 annual dividend allowance. This means that the total income related tax you pay is no greater than if you were to own the property directly. Gross rent and dividends may be lower than estimated. Tax treatment depends on individual circumstances and may be subject to change in future. See FAQs for more information on taxation. The Dividend Yield assumes an investment at the Latest Valuation.
Location
Flat 128, Vantage Building, Hayes, London, UB3 4BQ,