Funded
-
Available on resale soon
Commuter

Crossrail

Geared

Regeneration

Specialist

UK
Langley, Berkshire, SL3
4 flats in Chadwick Road
4 Unit Block |
Leasehold
Investment Case
This property has been fully funded and is not currently available for investment. We are in the process of completing the purchase at which point it will move to our Resale market.
View a short video from our Director of Property on why this is a great investment.
This is our first Crossrail opportunity since December 2015, and is amongst the highest yielding Crossrail properties on our platform. Langley is an established residential neighbourhood, a mere two miles from Slough town centre, and is ideally situated for commuters. These flats are less than a mile from Langley station, which currently runs a direct service to Paddington in 33 minutes and will run Crossrail services from 2019. When Crossrail services become fully operational, journey times to London Liverpool Street will be halved from over an hour to just 36 minutes. JLL forecast 32.2% growth from 2015-2020 for properties within 750m of this Crossrail station, which should ripple out into the wider area.
The investment comprises 4 flats in a block of 6 on Chadwick Road, Langley and is geared at 50% loan-to-value (LTV) of the purchase price. Gearing gives enhanced exposure to property price movements, and the potential for amplified returns; though investors must note amplified negative returns if prices fall.
There is a significant discount reflected in the purchase price of these properties, which we have secured by bulk-purchasing them at an RICS Investment Value (bulk price) of £1,113,500 versus the RICS Vacant Possession Value (break-up price) of the individual units of £1,180,000. Please note that future quarterly revaluations will be based on the Investment Value.
By purchasing the properties at their investment value as opposed to their break-up value, investors will benefit from a higher net dividend yield than would be achieved by purchasing individual units.
Langley Crossrail station is due to open in the area in 2019. The decrease in journey times to central London is expected to have a positive impact on local GDP, which is a key driver of house prices. Although growth has already been seen on Crossrail route locations, CBRE have forecast property prices to continue to grow in Langley by 3.3% per annum over and above that of wider house price growth - until the full effect of Crossrail has been realised.
Slough itself has consistently outperformed national and regional HPI growth over the last five years. Alongside its robust economy that supports more than 87,000 jobs, Slough town centre is benefitting from a £450m regeneration scheme to bring new leisure facilities, commercial developments, and infrastructure projects to the area. This should support local capital and rental values.
+ More
- Less
Property Detail
Our investment comprises 4 two-bedroom flats. By purchasing the properties in a single transaction, we were able to offer the vendor a fast and professional service from an experienced buyer. This, combined with our previous track record enabled us to secure a reduced purchase price of £1,113,500 for these properties versus an RICS certified Vacant Possession Value (break-up price) of the individual units of £1,180,000. By purchasing these properties at a bulk discount investors will benefit from a higher dividend yield than would be achieved by purchasing individual units.
Contracts were exchanged on April 12th with completion scheduled on or before June 7th. The resale market for this investment will launch the following business day after completion. Regardless of the completion date, investors will start accruing dividend income from the day they commit to investing in the property.
The total rent forecast for the 4 units is £57,360 per annum. The number of vacant flats may vary month to month. For prudence we have factored into our forecasts an annual void rate of 1.9% and have not included any growth in rental values.
At the forecasted level of rent, Gross Rental Yield would be 4.77% and the forecast Dividend Yield 3.07% (fully accounting for and after mortgage interest payments, purchase costs, furnishings, forecast maintenance, annual voids, corporate taxation and all fees). From April 2016 UK taxpayers are entitled to a £5,000 annual dividend allowance. See our FAQs here for more information.
The mortgage is provided by a major high street bank with a two-year fixed interest rate of approximately 3.2%. After this two-year period, the interest rate will switch to a variable rate based on the bank's base rate. At that point, we will assess the situation and either continue with the variable rate or fix the interest rate for an additional period if necessary. Please refer to our blog post on geared property for further details.
The properties are being acquired in good condition, and the Chartered Surveyor's report identifies no material issues. We have made a provision of £2,500 for any remedial works that further testing reveals. There is also a total provision of £2,000 for furnishings.
This transaction was approved by our RICS qualified Director of Property.
+ More
- Less
Floorplan
The investment comprises 4 two-bedroom flats.
The flats all provide a master bedroom with an en-suite shower room, second bedroom, family bathroom and an open plan kitchen/reception room with a Juliet balcony. In addition, there is allocated parking available for tenants.
We present here floorplans for 2 of the flats as examples.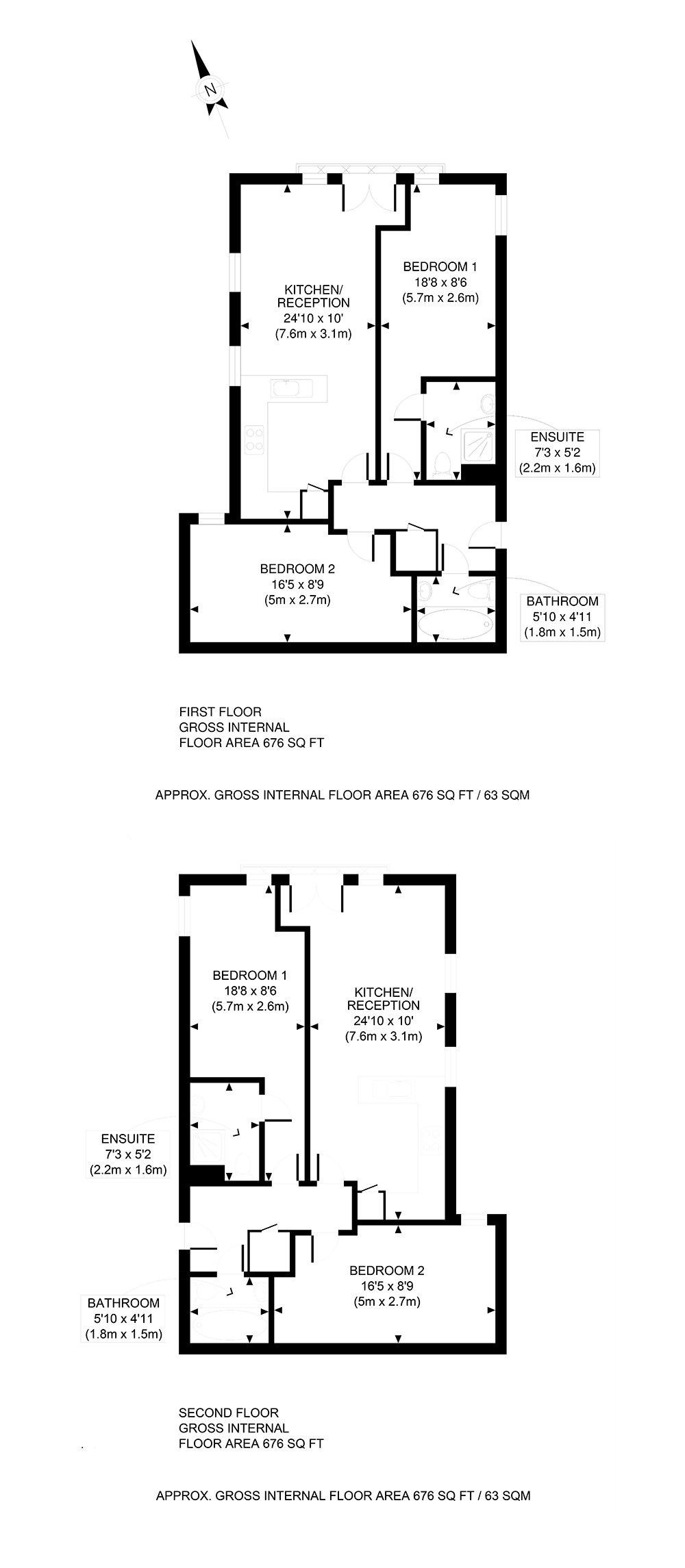 Zoom
Financials
Share Valuation
House Price Index
Rental Income Breakdown
Funding Target

£638,500
Shares

1,000,000
=
Purchase Price

£1,113,500
Purchase Costs

£87,318
Stamp Duty

£49,080
Legal & Prof Fees

£27,928
Furnishings

£2,000
Pre-let expenses

£242
Repairs Provision

£2,500
Mortgage Arrangement Fees

£5,568
Mortgage

- £562,318
Land Registry Data Slough
The HPI is an official statistic that captures changes in the value of residential properties across England and Wales. It is published by the Land Registry, which is a UK government organisation.
3 Years
+13.3% Annualised
Note: Past performance is not a reliable indicator of future results.
Residential property investment is a total returns product. This information is the income component only. Increasing capital values have historically driven most of the return.
Gross Rent per year (E)

£57,360
Service Charges

- £4,274
Gross Rental Revenue

= £53,086
Gross Rental Yield

4.77%
Costs

- £33,073
Annual Interest Payment

£17,994
Letting and Management

£7,032
Property Insurance

£0
Allowance for possible voids

£1,103
Maintenance Allowance

£2,250
Corporation Tax

£4,694
Dividends per year

= £20,013
Note: UK taxpayers are currently entitled to a £5,000 annual dividend allowance. This means that the total income related tax you pay is no greater than if you were to own the property directly. Gross rent and dividends may be lower than estimated. Tax treatment depends on individual circumstances and may be subject to change in future. See FAQs for more information on taxation. The Dividend Yield assumes an investment at the Latest Valuation.
Location
4 flats in Chadwick Road, SL3 7FU,