Crossrail

London

Regeneration

UK

Ungeared
Investment Case
Investors paid 23.77p per share in the New Listing for this property, and it became available on the Resale market June 19th 2015.
We believe that this house and the area of Thamesmead have a compelling investment case, which is underpinned by three factors:
The £305m regeneration project and planned transformation of Thamesmead over the next 15 years. This is one of the country's largest regeneration projects and ought to have a significant impact on long-term prospects.
The benefit of access to a Crossrail station at Abbey Wood, which is a short bus ride away, in 2018. The decrease in journey times to central London is expected to have an impact on local GDP, which is a key driver of house prices.
The property's favourable location at the heart of these local regeneration plans and it's proximity to multiple transport links.
You can read more on the investment case, here.
Important Note
Property Partner does not provide investment advice and any general information is provided to help you make your own informed decisions. If you are unsure whether an investment is suitable for you, you should contact a financial adviser for advice.
+ More
- Less
Property Detail
This property was acquired via 'private treaty' (normal sales process). Contracts were exchanged on June 5th and purchase completed on June 19th 2015.
The house was acquired vacant and in good condition. The Chartered Surveyor's report identifies no issues. We have made a precautionary provision of £2,000 for tests that are required and any remedial works that the testing reveals. There is also a provision of £1,200 for furnishings.
The total rent forecast is £13,200 per annum. At this level of rent, the Gross Rental Yield is 4.80% and the forecast Dividend Yield is 2.82% (fully accounting for purchase costs, furnishings, remedial cosmetic works, forecast maintenance, annual voids, corporate taxation and all fees). From April 2016 UK taxpayers are entitled to a £5,000 annual dividend allowance. See our FAQs here for more information.

We haven't included any growth in rental values in our forecasts, which is simply a precaution. However, it is worth noting that Savills forecast rental growth for London (excluding 'prime' central London markets) of 29.5% over the five years from January 2015.
This transaction was approved by our RICS qualified Director of Property.
+ More
- Less
Floorplan
A two storey end of terrace house, with a kitchen, living room and conservatory on the ground floor. Upstairs, there are two bedrooms and a family bathroom.
The property includes a rear garden.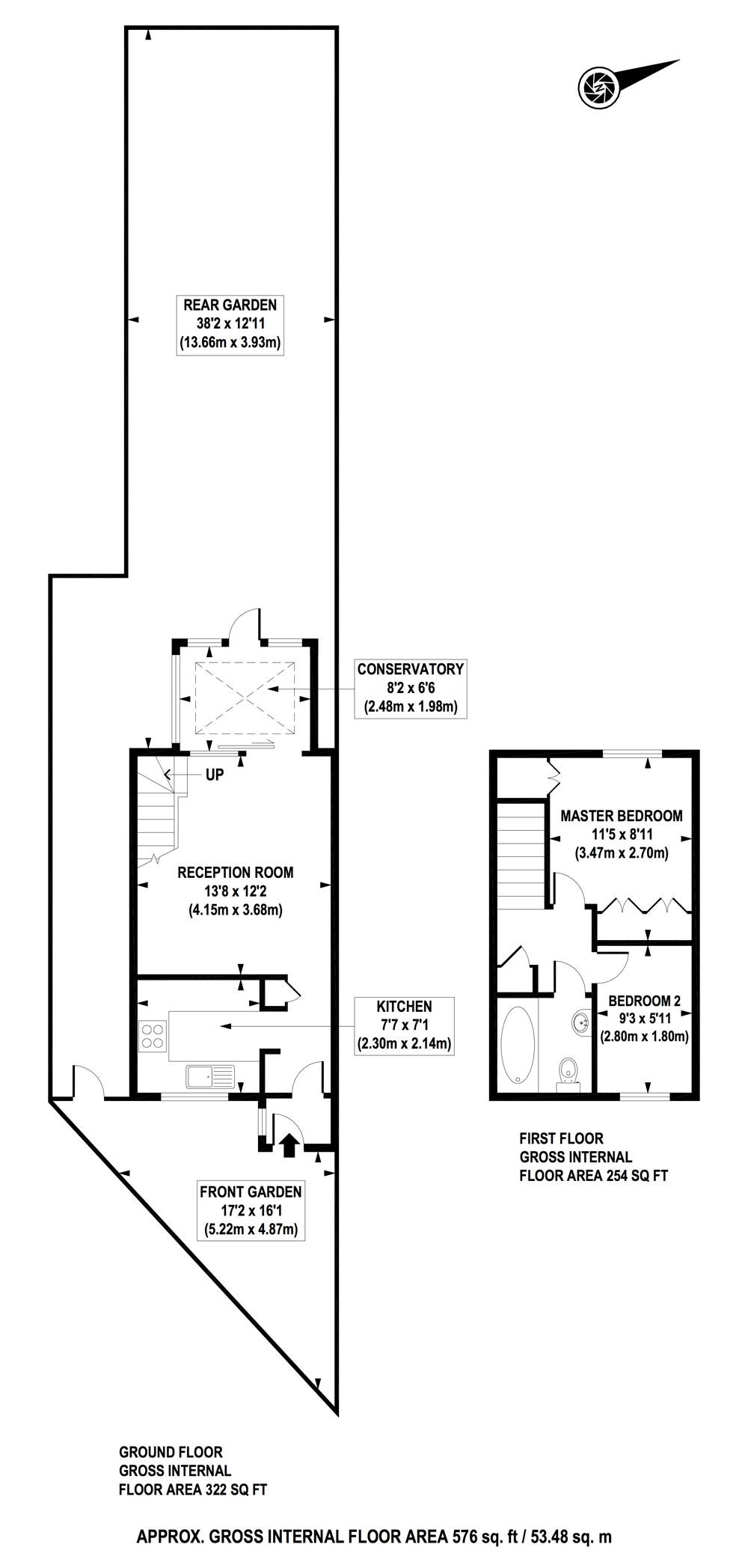 Zoom
Financials
Share Valuation
House Price Index
Rental Income Breakdown
Latest Valuation

£272,737
Shares

1,000,000
=
Latest Share Valuation

27.27p
Latest Property Value

£275,000
Amortised Purchase Costs

£4,184
Deferred Tax

- £6,447
Latest Valuation

£272,737
Note: The estimates provided do not constitute valuation advice; it remains your responsibility to determine valuation.
Land Registry Data Greenwich
The HPI is an official statistic that captures changes in the value of residential properties across England and Wales. It is published by the Land Registry, which is a UK government organisation.
5 Years
+10.6% Annualised
Note: Past performance is not a reliable indicator of future results.
Residential property investment is a total returns product. This information is the income component only. Increasing capital values have historically driven most of the return.
Gross Rent per year (E)

£13,200
Service Charges

- £0
Gross Rental Revenue

= £13,200
Gross Rental Yield

4.80%
Costs

- £5,310
Letting and Management

£1,555
Property Insurance

£520
Allowance for possible voids

£762
Maintenance Allowance

£622
Corporation Tax

£1,851
Dividends per year

= £7,890
Note: UK taxpayers are currently entitled to a £5,000 annual dividend allowance. This means that the total income related tax you pay is no greater than if you were to own the property directly. Gross rent and dividends may be lower than estimated. Tax treatment depends on individual circumstances and may be subject to change in future. See FAQs for more information on taxation. The Dividend Yield assumes an investment at the Latest Valuation.
Location
80, Manordene Road, Thamesmead, London, SE28 8EU,