Surrey Quays, London, SE16
Flat 21, Anchor Point
2 Bed Flat |
Leasehold
Latest Valuation

£569,506
Current Investors

854
Dividend Yield

+2.49%
Last Year HPI

9.0%
Latest Share Valuation

56.95p
Lowest Share Price

54p
Discount

5.18%
Investment Case
Investors paid 52.80p per share in the New Listing for this property, and it became available on the Resale market April 19th 2016.
This luxury 2-bed apartment is in Rotherhithe - an up-and-coming part of London that's increasingly gentrified. The area, which includes Canada Water and Surrey Quays, has speedy links to the West End and Canary Wharf. This is the fourth unit that we've secured off-plan in this development – a bulk buy with an attractive discount. It is offered without gearing, which enhances yield and provides an opportunity to diversify your portfolio with an unleveraged property.
The property is exceptionally well located, it is just 6 minutes distance to Rotherhithe Overground Station and only 9 minutes walk to Canada Water Underground Station. The flat is just one stop on the Jubilee Line or 3 minutes ferry ride from the financial centre of Canary Wharf.

The area benefits from proximity to major business hubs and employers such as Canary Wharf and More London, making it an attractive rental market.

Developer British Land is proposing a £2bn redevelopment of Canada Water with the construction of 3,500 homes, a new high street, a town centre, a cultural and entertainment hub, a new leisure centre and a potential new university campus.

You can read more on the investment case, here.
Important Note
Property Partner does not provide advice and nothing in this Overview should be construed as investment or tax advice. The information which appears in this Overview is for general information purposes only and does not constitute specific advice.

+ More
- Less
Property Detail
The flat was acquired brand new and vacant. We have set aside a contingency of £600 for any minor issues that are identified after purchase. There is also a provision of £3,600 for furnishings.
The selling agents have been instructed to commence marketing. We have adopted an annual rent forecast of £24,500 - which is in line with their advice. We expect the property to be income generating from April 5th 2016.
At the current level of rent, Gross Rental Yield would be 3.99% and the forecast Dividend Yield 2.36% (fully accounting for and after purchase costs, furnishings, forecast maintenance, annual voids, corporate taxation and all fees). UK taxpayers are entitled to a 10% dividend tax credit, prior to April 2016. After this date, the credit is to be replaced with a £5,000 annual dividend allowance. See our FAQs here for more information.
For prudence, we have not included any growth in rental values in our forecasts - any growth in rent will be incremental to our forecasts.
This transaction was approved by our RICS qualified Director of Property.
+ More
- Less
Location
Flat 21 (plot 35) is a two-bedroom flat on the first floor, with a kitchen, living room, and family bathroom. The flat benefits from access to a terrace and a right to park.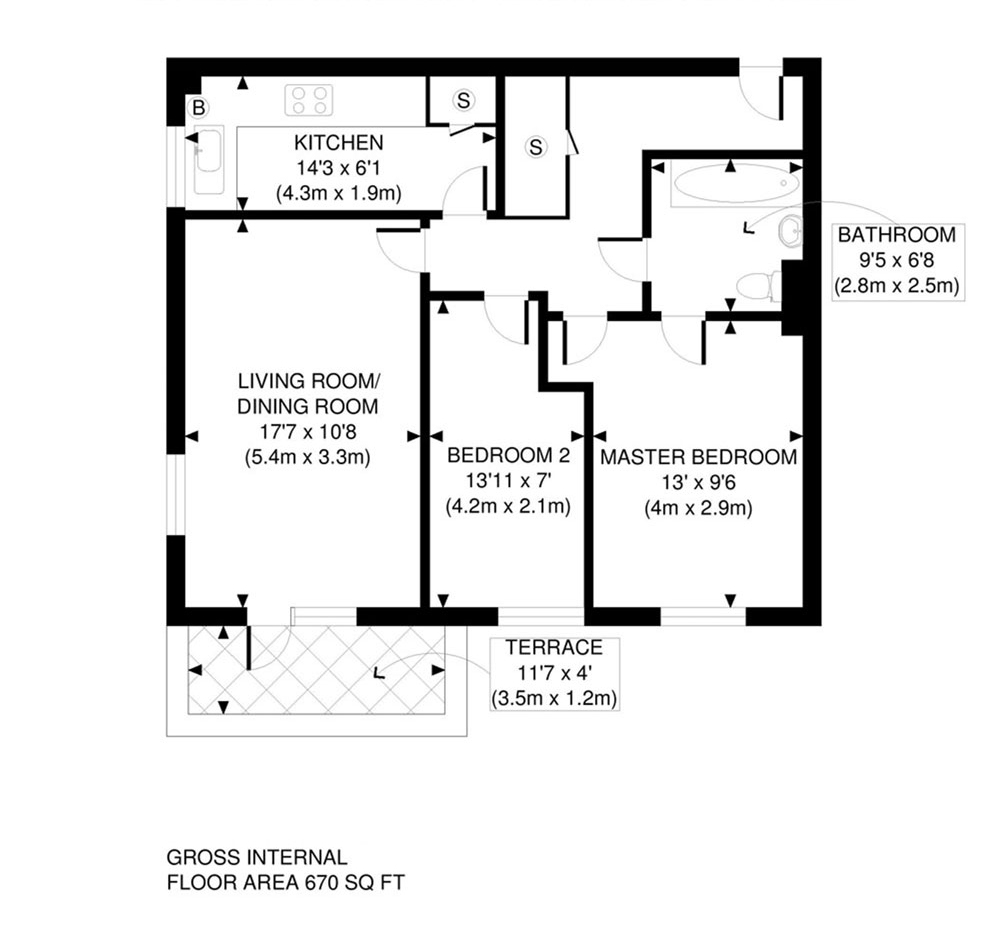 Zoom
Financials
Share Valuation
House Price Index
Rental Income Breakdown
Latest Valuation

£569,506
Shares

1,000,000
=
Latest Share Valuation

56.95p
Latest Property Value

£555,000
Amortised Purchase Costs

£18,920
Deferred Tax

- £4,414
Latest Valuation

£569,506
Note: The estimates provided do not constitute valuation advice; it remains your responsibility to determine valuation.
Land Registry Data Southwark
The HPI is an official statistic that captures changes in the value of residential properties across England and Wales. It is published by the Land Registry, which is a UK government organisation.
3 Years
+12.2% Annualised
5 Years
+11.0% Annualised
Note: Past performance is not a reliable indicator of future results.
Residential property investment is a total returns product. This information is the income component only. Increasing capital values have historically driven most of the return.
Gross Rent per year (E)

£24,500
Service Charges

- £2,359
Gross Rental Revenue

= £22,141
Gross Rental Yield

3.99%
Costs

- £8,352
Letting and Management

£2,945
Property Insurance

£0
Allowance for possible voids

£942
Maintenance Allowance

£1,178
Corporation Tax

£3,287
Dividends per year

= £13,789
Note: UK taxpayers are currently entitled to a 10% pidend tax credit on Dividends. As of April 2016, this is to be replaced by a £5,000 annual dividend allowance. This means that the total income related tax you pay is no greater than if you were to own the property directly. Gross rent and dividends may be lower than estimated. Tax treatment depends on individual circumstances and may be subject to change in future. See FAQs or more information on taxation. The Dividend Yield assumes an investment at the Latest Valuation.
Location
Flat 21, Anchor Point, London, SE16 5AD,