Lincoln, Lincolnshire, LN5
St Catherine's Mews
21 Unit Block |
Freehold
Latest Valuation

£987,392
Current Investors

877
Dividend Yield

4.94%
Last Year HPI

+6.5%
Latest Share Valuation

98.74p
Lowest Share Price

103p
Premium

4.31%
Investment Case
Investors paid 98.36p per share in the New Listing for this property, and it became available on the Resale market January 28th 2016.
St Catherines Mews is situated in a popular and leafy residential area walking distance from the heart of the historic city of Lincoln. This opportunity represents an institutional grade investment.
The investment comprises all 21 flats in this property and is geared at 50% loan-to-value (LTV) of the purchase price. Gearing gives enhanced exposure to property price movements, and the potential for amplified returns; though investors must note amplified negative returns if prices fall.

There is a significant discount reflected in the purchase price of this property, which we have secured by purchasing the entire block at an RICS investment value of £1,865,000 versus the RICS break-up value of the individual flats of £2,255,000.
By purchasing the unbroken block at its investment value as opposed to its break-up value, investors will benefit from a higher net dividend yield than they would achieve by purchasing individual flats. Net income is further enhanced by a favourable mortgage rate relative to the net dividend yield.
The property is located in the Cathedral City of Lincoln, in the East Midlands. The well-regarded research team at Savills estimate this region to enjoy a forecast capital growth of 16.5% over the next 5 years (2016: 5%, 2017: 3%, 2018: 3%, 2019: 2.5%, 2020: 2.5%).
You can read more on the investment case.
Important Note
Property Partner does not provide advice and nothing in this Overview should be construed as investment or tax advice. The information which appears in this Overview is for general information purposes only and does not constitute specific advice.
+ More
- Less
Property Detail
The mortgage is provided by a major high street bank and has a two-year fixed interest rate of 3.90%. After this two-year period, the interest rate will switch to a variable rate based on the bank's base rate. At that point, we will assess the situation and either continue with the variable rate or fix the interest rate for an additional period. We have assumed a constant cost of debt and no rental growth in our annual income forecast. Please refer to our blog post on geared property for further details.
Our investment comprises an unbroken block of 21 two-bedroom flats, as well as the Freehold interest for the building. We were able to secure this property prior to auction by offering the vendor speed and certainty. In the interests of prudence, and as per our valuation policy for blocks of over 10 units, we will value this property at RICS investment value on our platform. By purchasing the entire block at its investment value as opposed to its break-up value, investors will benefit from a higher dividend yield than they would achieve by purchasing individual flats. Net income is further enhanced by a favourable mortgage rate relative to the net dividend yield.
The flats were acquired in good condition. The Chartered Surveyor's report identifies no material issues. We have made a precautionary provision of £10,000 for tests that are required and any remedial works that the testing reveals. There is also a provision of £5,000 for furnishings.
The total rent forecast for the 21 flats is £136,560 per annum. However, the number of vacant flats may vary month to month. Therefore, we have factored into our forecasts an annual void rate of 3.8% for prudence.
At the current level of rent, Gross Rental Yield would be 7.26% and the forecast Dividend Yield 5.15% (fully accounting for and after mortgage interest payments, purchase costs, furnishings, remedial cosmetic works, forecast maintenance, annual voids, corporate taxation and all fees). UK taxpayers are entitled to a 10% dividend tax credit, prior to April 2016. After this date, the credit is to be replaced with a £5,000 annual dividend allowance. See our FAQs here for more information.
For prudence, we have not included any growth in rental values in our forecasts - any growth in rent will be incremental to our forecasts.
This transaction was approved by our RICS qualified Director of Property.
+ More
- Less
Floorplan
The property comprises 21 purpose built two-bedroom flats.
All the flats contain a living room, kitchen and bathroom. We present here floorplans for 4 of the flats as examples.
Each flat benefits from an allocated off-street parking space.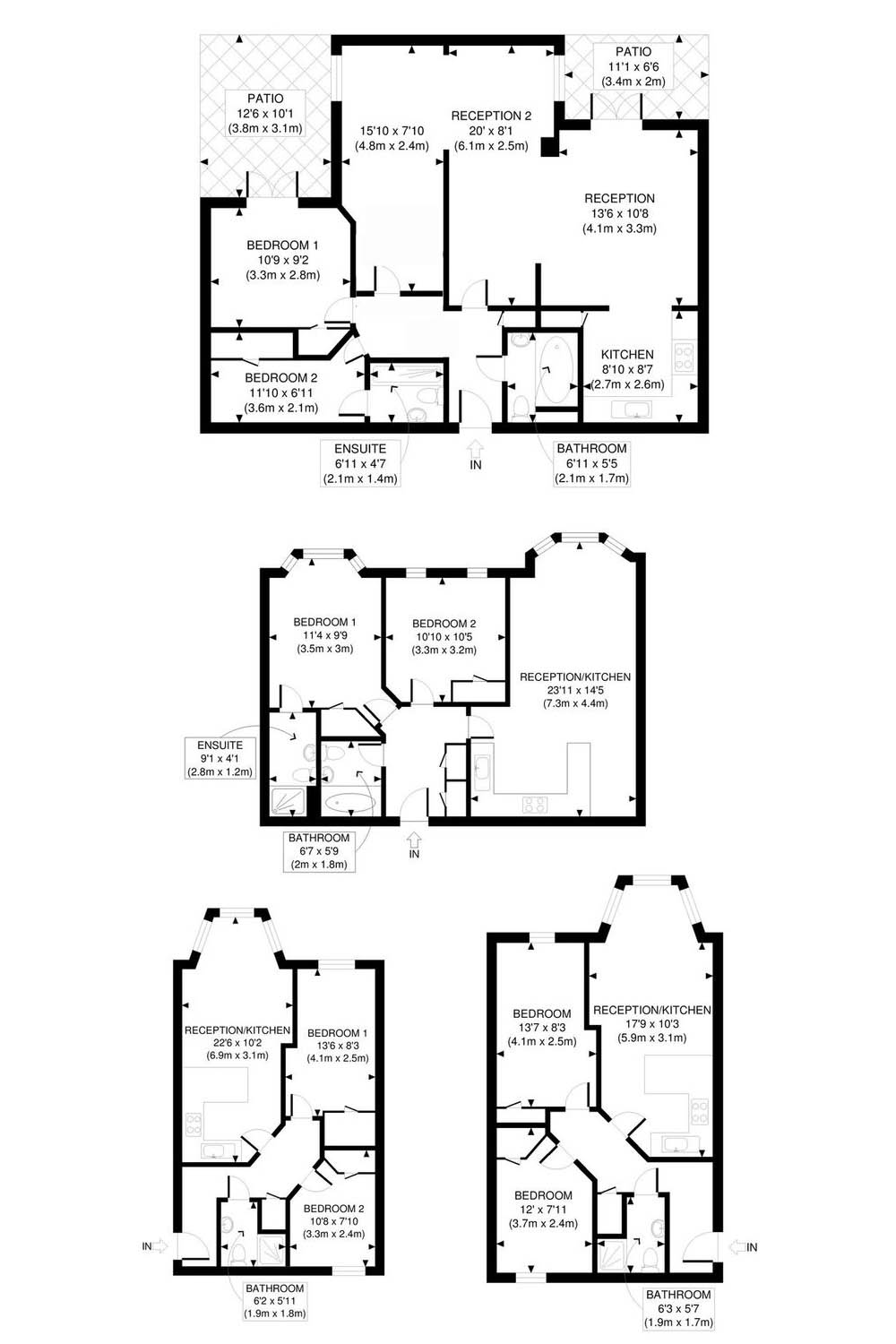 Zoom
Financials
Share Valuation
House Price Index
Rental Income Breakdown
Latest Valuation

£987,392
Shares

1,000,000
=
Latest Share Valuation

98.74p
Latest Property Value

£1,880,000
Amortised Purchase Costs

£49,217
Mortgage

- £941,825
Latest Valuation

£987,392
Note: The estimates provided do not constitute valuation advice; it remains your responsibility to determine valuation.
Land Registry Data Lincolnshire
The HPI is an official statistic that captures changes in the value of residential properties across England and Wales. It is published by the Land Registry, which is a UK government organisation.
Note: Past performance is not a reliable indicator of future results.
Residential property investment is a total returns product. This information is the income component only. Increasing capital values have historically driven most of the return.
Gross Rent per year (E)

£136,560
Service Charges

- £0
Gross Rental Revenue

= £136,560
Gross Rental Yield

7.26%
Costs

- £84,391
Annual Interest Payment

£34,659
Letting and Management

£16,413
Property Insurance

£2,500
Allowance for possible voids

£5,252
Maintenance Allowance

£13,131
Corporation Tax

£12,436
Dividends per year

= £52,169
Note: UK taxpayers are currently entitled to a £5,000 annual dividend allowance. This means that the total income related tax you pay is no greater than if you were to own the property directly. Gross rent and dividends may be lower than estimated. Tax treatment depends on individual circumstances and may be subject to change in future. See FAQs for more information on taxation. The Dividend Yield assumes an investment at the Latest Valuation.
Location
St Catherine's Mews, Lincoln, Lincoln, LN5 8JT,