Funded
-
Available on resale soon
Geared

Specialist

Student

UK
Leicester, East Midlands, LE2
Burns Street
55 Unit Block |
Freehold
Rental income for 2 yrs**
( Dividend Yield after 2 years)
Investment Case
This property has been fully funded and is not currently available for investment. We are in the process of completing the purchase at which point it will move to our Resale market.

We are pleased to announce the launch of our latest Purpose-Built Student Accommodation (PBSA) offering. PBSA is currently the UK's strongest performing property sector. In the academic year ending August 2016, PBSA delivered a 10.2% total return, with a combination of 5.4% rental income and 4.8% capital growth according to CBRE. Click here to learn more about PBSA as an asset class.
Burns St is a part period conversion, part new-build block of student accommodation in Leicester, home to both the University of Leicester and De Montfort University, with nearly 40,000 students between them. According to Knight Frank, during the 2017/2018 academic year, Leicester PBSA flats saw 2.05% rental growth, and in 2016 featured amongst the top structurally undersupplied markets in the UK, with 56% of full-time students unable to access PBSA due to a lack of beds. We expect to see continued demand. The property is ideally located between the University of Leicester (15 minutes walk) and De Montfort University (a further 10 minutes).
View a short video to hear from our Director of Property on why we selected this investment.
The investment comprises

55 self-contained student flats providing 70-bed spaces in total. The units are fitted to a high standard and feature double beds, secure entry system, and ensuite shower rooms. In addition, the block contains a cycle store, on-site laundry facility and a secure car park at the rear

The University of Leicester has recently unveiled a transformative £500m programme of investment that will improve student facilities as well as public spaces over the next decade. A significant proportion is planned over the next three years, and will feature a mix of major refurbishment and redevelopment projects, including significant works to some of the most iconic buildings on central campus, including the Charles Wilson Building and Attenborough Tower

De Montfort University is one of the fastest-growing for UK and EU students (UCAS), in the top 1.5 percent of global universities for international impact (the Times Higher Education World University Rankings 2016-17), and one of the world's 150 best 'young' universities (the Times Higher Education magazine)

Our exit strategy is to sell the investment as a single holding to an investor. This will preserve its value as an income producing Freehold block, and ensure an efficient and timely sale

The property is mortgaged at 50% loan-to-value (LTV) of the purchase price. The mortgage gives enhanced exposure to property price movements, and the potential for amplified returns; though investors must note amplified negative returns if prices fall. For your information, we have chosen to offer this property on a mortgaged basis, because doing so increases the annual yield by 1.69% p.a
+ More
- Less
Property Detail
Investors will start accruing dividend income from the day they commit to investing in the property. Contracts are due to exchange in the next few days with completion scheduled 5 weeks later. The resale market for this investment will launch the following business day after completion.
Our investment comprises 55 self-contained student flats, which we secured at a purchase price of £4,536,000.
The building will be managed by a specialist student management company and is fully occupied for the 2017/2018 academic year. The total rent forecast for the block is £358,444 per annum. For prudence, we have factored into our forecasts an annual void rate of 1.9% and have not included any growth in rental values.
At the forecasted level of rent, Gross Rental Yield would be 7.04% and the forecast Dividend Yield 6.30% (fully accounting for and after mortgage interest payments, purchase costs, furnishings, forecast maintenance, annual voids, corporate taxation and all fees). Since April 2016 UK taxpayers are entitled to a £5,000 annual dividend allowance. See our FAQs here for more information.
The mortgage will be provided by a major high street bank with an anticipated two-year fixed interest rate of approximately 3.45%. After this two-year period, the interest rate will switch to a variable rate based on the bank's base rate. At that point, we will assess the situation and either continue with the variable rate or fix the interest rate for an additional period if necessary. Please refer to our blog post on geared property for further details.
The block being acquired is in good condition. We have set aside a contingency of £20,000 for any issues that are identified after purchase. There is also a total provision of £14,000 for furnishings.
We are acquiring the Freehold block comprising 55 self-contained student flats.
This transaction was approved by our RICS qualified Director of Property.
+ More
- Less
Floorplan
The investment comprises a four-storey development of 55 self-contained student flats providing 70-bed spaces (47 studios, 2 two-bedroom flats, 5 three-bedroom flats and 1 four-bedroom flat).
The units are fitted to a high standard and feature double beds, secure entry system, and ensuite shower rooms. In addition, the block contains a cycle store, on-site laundry facility and a secure car park at the rear.
We present here a floorplan for 1 of the floors within the block.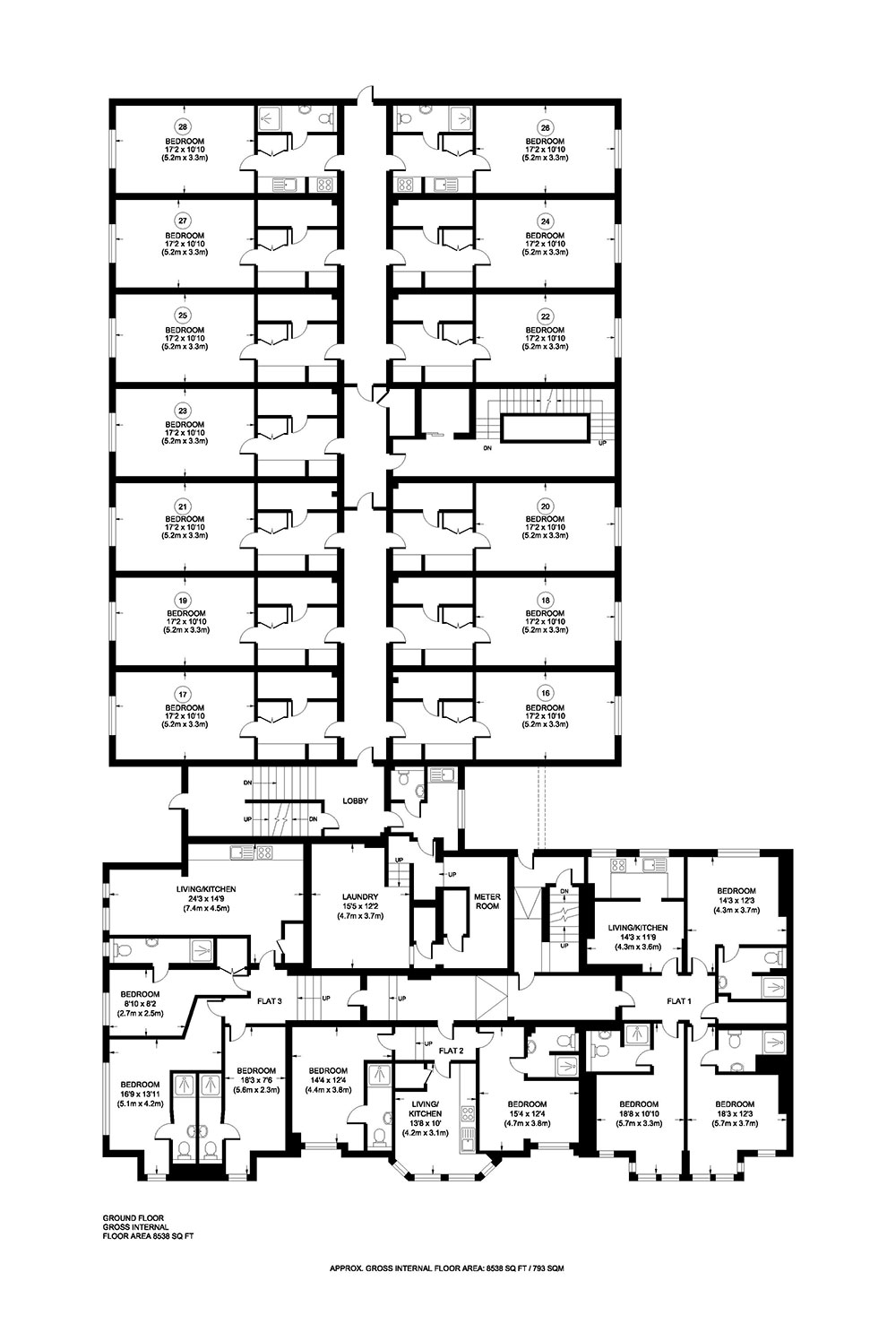 Zoom
Financials
Share Valuation
Rental Income Breakdown
Funding Target

£2,473,600
Shares

1,000,000
=
Purchase Price

£4,536,000
Purchase Costs

£228,280
Stamp Duty

£136,080
Legal & Prof Fees

£35,253
Furnishings

£14,000
Pre-let expenses

£267
Repairs Provision

£20,000
Mortgage Arrangement Fees

£22,680
Mortgage

- £2,290,680
Funding Target

£2,473,600
Gross Rent per year (E)

£358,444
Service Charges

- £39,150
Gross Rental Revenue

= £319,294
Gross Rental Yield

7.04%
Costs

- £160,441
Annual Interest Payment

£79,028
Letting and Management

£27,421
Property Insurance

£7,200
Allowance for possible voids

£6,893
Maintenance Allowance

£2,637
Corporation Tax

£37,262
Dividends per year

= £158,853
Note: UK taxpayers are currently entitled to a £5,000 annual dividend allowance. This means that the total income related tax you pay is no greater than if you were to own the property directly. Gross rent and dividends may be lower than estimated. Tax treatment depends on individual circumstances and may be subject to change in future. See FAQs for more information on taxation. The Dividend Yield assumes an investment at the Latest Valuation.
Location
Burns Street, LE2 6DJ,