Commuter

London

Specialist

UK

Ungeared
Investment Case
Investors paid 21.29p per share in the New Listing for this property, and it became available on the Resale market June 5th 2015.
This is an unusual transaction, and plays to our collective strength as a cash buyer - with the added benefit of deep market knowledge.
It's a leasehold property where the building's freeholder (an investor) is going through bankruptcy proceedings. The resolution is ultimately a simple one: the freehold title will likely be sold by the administrator, who is acting on behalf of a bank.
However, administrative proceedings involving a bank can be drawn out and take several years. In the meantime, no one can secure a mortgage to buy any of the leasehold properties in that block.
Owing principally to this, we were able to negotiate a 20% discount relative to the RICS certified Vacant Possession value – paying £204,540 instead of £255,000. We expect investors to later benefit from the uplift in value, in addition to an enhanced rental yield provided by the capital discount.
The property is set within an attractive area of the South East and inside London's M25.
Read more detail on the investment case here.
Important Note
Property Partner does not provide advice and nothing in this Overview should be construed as investment or tax advice. The information which appears in this Overview is for general information purposes only and does not constitute specific advice.
+ More
- Less
Property Detail
Contracts were exchanged on May 8th and the purchase completed on June 5th 2015.
The Chartered Surveyor's Report did not highlight any issues that require structural work or maintenance expenditure. However, from our own inspection, we noted minor points that we would like to address over the coming years. In addition, the laminate floor in the reception room and hallway is showing slight signs of wear. Accordingly, we consider it prudent to make a provision of £1,500 for better quality wood laminate flooring, as well as a further £1,500 for the minor works noted.
The total rent forecast is £14,400 per annum. After accounting for building service charges payable for block management, maintenance and insurance of the building, this equates to a Gross Rental Yield of 6.07% and a forecast Dividend Yield of 3.69% (fully accounting for purchase costs, furnishings, remedial cosmetic works, forecast maintenance, annual voids, corporate taxation and all fees). From April 2016 UK taxpayers are entitled to a £5,000 annual dividend allowance. See our FAQs here for more information.

For prudence, we haven't included any growth in rental values in our forecasts.
This transaction was approved by our RICS qualified Director of Property.
+ More
- Less
Floorplan
A two-bedroom, first-floor flat with a separate living room, kitchen and family bathroom. The master bedroom also has an en-suite shower room.
The flat has the benefit of off-street parking for one car and communal gardens to the rear of the property.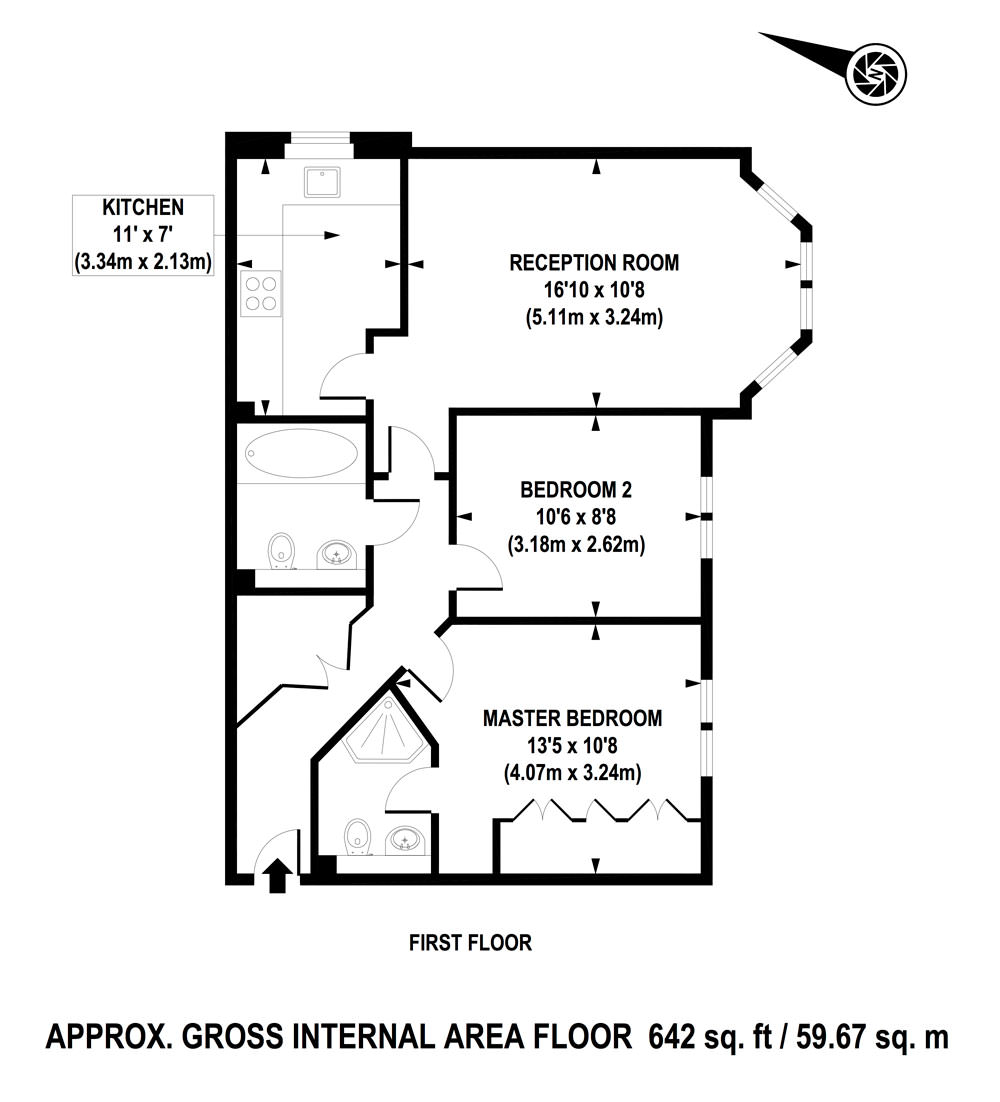 Zoom
Financials
Share Valuation
House Price Index
Rental Income Breakdown
Latest Valuation

£223,407
Shares

1,000,000
=
Latest Share Valuation

22.34p
Latest Property Value

£220,578
Amortised Purchase Costs

£4,477
Deferred Tax

- £1,648
Latest Valuation

£223,407
Note: The estimates provided do not constitute valuation advice; it remains your responsibility to determine valuation.
Land Registry Data Surrey
The HPI is an official statistic that captures changes in the value of residential properties across England and Wales. It is published by the Land Registry, which is a UK government organisation.
Note: Past performance is not a reliable indicator of future results.
Residential property investment is a total returns product. This information is the income component only. Increasing capital values have historically driven most of the return.
Gross Rent per year (E)

£14,400
Service Charges

- £1,000
Gross Rental Revenue

= £13,400
Gross Rental Yield

6.07%
Costs

- £4,957
Letting and Management

£1,731
Property Insurance

£0
Allowance for possible voids

£554
Maintenance Allowance

£692
Corporation Tax

£1,980
Dividends per year

= £8,443
Note: UK taxpayers are currently entitled to a £5,000 annual dividend allowance. This means that the total income related tax you pay is no greater than if you were to own the property directly. Gross rent and dividends may be lower than estimated. Tax treatment depends on individual circumstances and may be subject to change in future. See FAQs for more information on taxation. The Dividend Yield assumes an investment at the Latest Valuation.
Location
Flat 6, High Court, Byfleet, London, KT14 7RX,