Commuter

Regeneration

UK

Ungeared
Investment Case
Investors paid 28.88p per share in the New Listing for this property, and it became available on the Resale market March 20th 2015.
We believe that Woking and this property have a compelling investment case underpinned by two factors:
Woking's highly favourable location: within Surrey and one of the three 'major wealth corridors' running out of London that are

benefiting from Londoners relocating to the regions, and just 24 minutes to London Waterloo by train.

A £150m regeneration project centred around Woking's town centre, scheduled for completion in 2016 (potentially increasing to £250m according to recent press).
Read more detail on the investment case here.
Important Note
Property Partner does not provide advice and nothing in this Overview should be construed as investment or tax advice. The information which appears in this Overview is for general information purposes only and does not constitute specific advice.
+ More
- Less
Property Detail
The total rent forecast is £15,300 per annum. After accounting for building service charges payable to the Freeholder for block management, maintenance and insurance of the building, this equates to a Gross Rental Yield of 4.18% and a forecast Dividend Yield of 2.61% (fully accounting for purchase costs, furnishings, remedial cosmetic works, forecast maintenance, annual voids, corporate taxation and all fees). From April 2016 UK taxpayers are entitled to a £5,000 annual dividend allowance. See our FAQs here for more information.
We haven't included any growth in rental values in our forecasts for prudence, but note Savills' Nov 2014 forecast of +20.5% for the UK 2015-2019. Rental values are generally considered to be driven by local GDP, which in this case is supplemented by London's GDP given the commutable distance, so it may be reasonable to expect outperformance relative to the UK average.
This transaction was approved by our RICS qualified Director of Property.
+ More
- Less
Floorplan
A two bedroom apartment with a separate living room, kitchen and bathroom. The master bedroom also has an ensuite shower room.
The flat is on the second floor of this block, which contains 20 flats. The occupant of this flat is entitled to an allocated parking space in the gated basement carpark.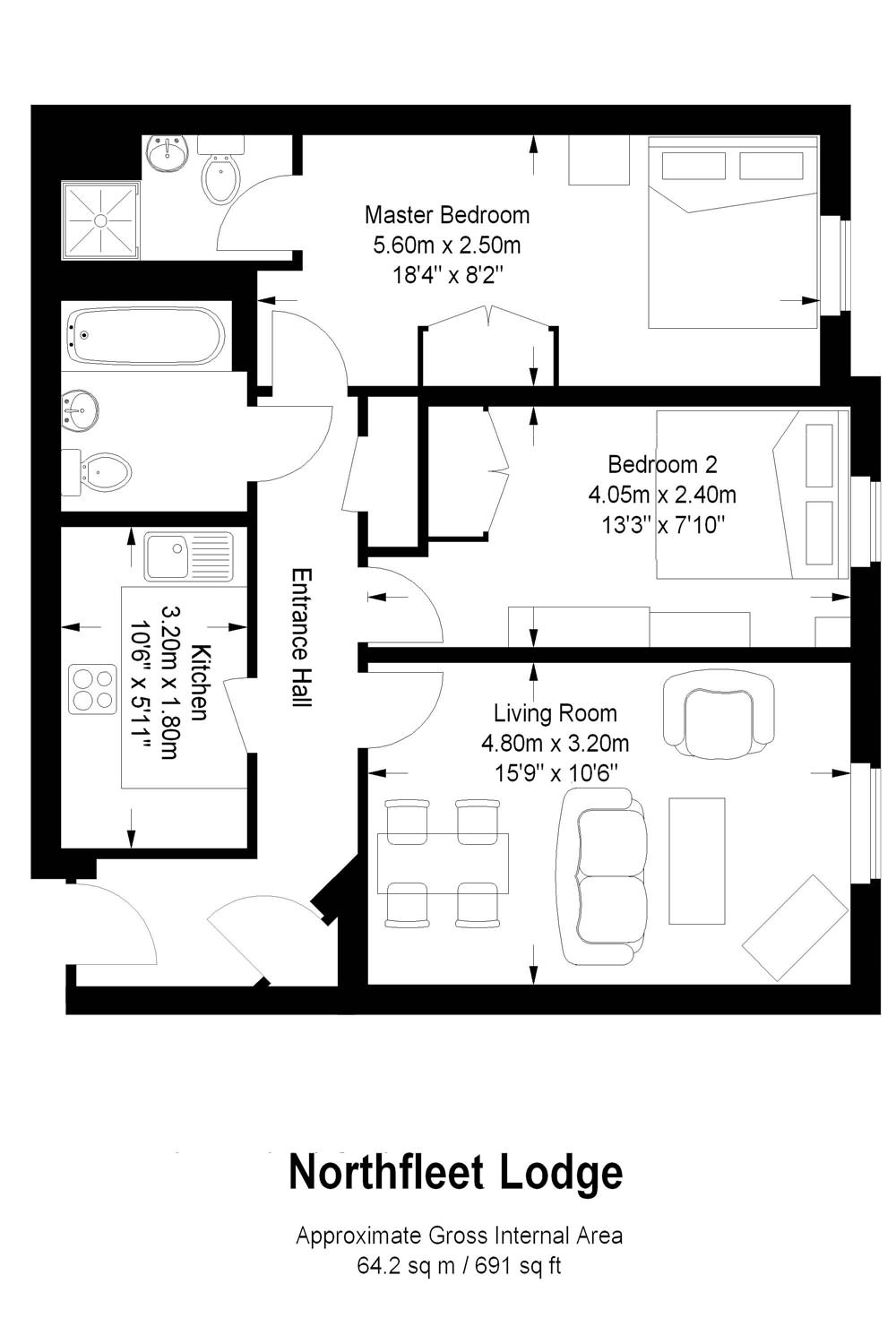 Zoom
Financials
Share Valuation
House Price Index
Rental Income Breakdown
Latest Valuation

£326,683
Shares

1,000,000
=
Latest Share Valuation

32.67p
Latest Property Value

£330,000
Amortised Purchase Costs

£4,348
Deferred Tax

- £7,665
Latest Valuation

£326,683
Note: The estimates provided do not constitute valuation advice; it remains your responsibility to determine valuation.
Land Registry Data Surrey
The HPI is an official statistic that captures changes in the value of residential properties across England and Wales. It is published by the Land Registry, which is a UK government organisation.
Note: Past performance is not a reliable indicator of future results.
Residential property investment is a total returns product. This information is the income component only. Increasing capital values have historically driven most of the return.
Gross Rent per year (E)

£15,300
Service Charges

- £1,500
Gross Rental Revenue

= £13,800
Gross Rental Yield

4.18%
Costs

- £5,064
Letting and Management

£1,839
Property Insurance

£0
Allowance for possible voids

£588
Maintenance Allowance

£588
Corporation Tax

£2,049
Dividends per year

= £8,736
Note: UK taxpayers are currently entitled to a £5,000 annual dividend allowance. This means that the total income related tax you pay is no greater than if you were to own the property directly. Gross rent and dividends may be lower than estimated. Tax treatment depends on individual circumstances and may be subject to change in future. See FAQs for more information on taxation. The Dividend Yield assumes an investment at the Latest Valuation.
Location
Flat 20, Northfleet Lodge, Woking, Surrey, GU22 7RL,