Funded
-
Available on resale soon
Geared

Specialist

Student

UK
Exeter, Devon, EX1
9 Verney Street
29 Unit Block |
Leasehold
Investment Case
This property has been fully funded and is not currently available for investment. We are in the process of completing the purchase at which point it will move to our Resale market.
We are pleased to announce the launch of our first Purpose-Built Student Accommodation (PBSA) offering. PBSA is currently the UK's strongest performing property sector. In the academic year ending August 2016, PBSA delivered a 10.2% total return, with a combination of 5.4% rental income and 4.8% capital growth according to CBRE. Click here to learn more about PBSA as an asset class.
9 Verney Street is a PBSA block of 29 new studio flats in Exeter, a lovely cathedral city in Devon - located in the South West and home to the University of Exeter, with over 22,000 students. It is a member of the Russell Group, and ranked amongst the UK's top 20 universities according to the 2018 Times Higher Education league table. The property is located in a well-established student location within Exeter's city centre, under a mile from the university's Streatham campus and St. Luke's campus, as well as Exeter Library.
View a short video to hear from our Director of Property on why he selected this investment.
The investment comprises a self-contained building of 29 new purpose-built student studios. The studios are fitted to a high standard, and feature double beds, ensuite shower rooms, and fully-fitted kitchens. In addition, the block contains a communal lounge, laundry facilities, and a gym
The nearby Streatham campus recently completed a £275 million investment programme, providing improved student services and teaching buildings throughout the campus
Student numbers at the University of Exeter have increased by 24% between 2012-2016 showing strong increased demand
A recent Savills report highlighted Exeter as a top tier location to invest in student accommodation due to low levels of supply, strong demand characteristics, high occupancy levels, and good prospects for rental growth. Additionally, a Knight Frank report shows student rental growth of 2.54% in Exeter for this academic year
Our exit strategy is to sell the investment as a single holding
The property is mortgaged at 60% loan-to-value (LTV) of the purchase price. The mortgage gives enhanced exposure to property price movements, and the potential for amplified returns; though investors must note amplified negative returns if prices fall
+ More
- Less
Property Detail
Contracts were exchanged on September 14th and completion is scheduled on or before November 30th 2017. The resale market for this investment will launch the following business day after completion. Regardless of the completion date, investors will start accruing dividend income from the day they commit to investing in the property.
Our investment comprises 29 new purpose-built student studios. We were able to secure the property for a purchase price of £3,600,000 and this is supported by an independent Chartered Surveyors valuation.
The building will be managed by a specialist student accommodation manager. The total rent forecast for the block is £299,520 per annum. For prudence we have factored into our forecasts an annual void rate of 1.9% and have not included any growth in rental values.
At the forecasted level of rent, Gross Rental Yield would be 6.98% and the forecast Dividend Yield 6.70% (fully accounting for and after mortgage interest payments, purchase costs, furnishings, forecast maintenance, annual voids, corporate taxation and all fees). Since April 2016 UK taxpayers are entitled to a £5,000 annual dividend allowance. See our FAQs here for more information.
The mortgage is provided by a major high street bank with a five-year fixed interest rate of approximately 3.8%. After this five-year period, the interest rate will switch to a variable rate based on the bank's base rate. At that point, we will assess the situation and either continue with the variable rate or fix the interest rate for an additional period if necessary. Please refer to our blog post on geared property for further details.
The block being acquired is newly built, and the Chartered Surveyor's report identifies no material issues. We have set aside a contingency of £15,000 for any issues that are identified after purchase. There is also a total provision of £21,750 for furnishings.
The building is held on a high-quality leasehold basis, with 124 years remaining at a peppercorn ground rent (effectively nil rent).
This transaction was approved by our RICS qualified Director of Property.
+ More
- Less
Floorplan
The investment comprises a modern four storey development of 29 new purpose-built student studios.
The studios are fitted to a high standard and feature double beds, ensuite shower rooms, and fully-fitted kitchens. In addition, the block contains a communal lounge, laundry facilities, and a gym.
We present here floorplans for the block.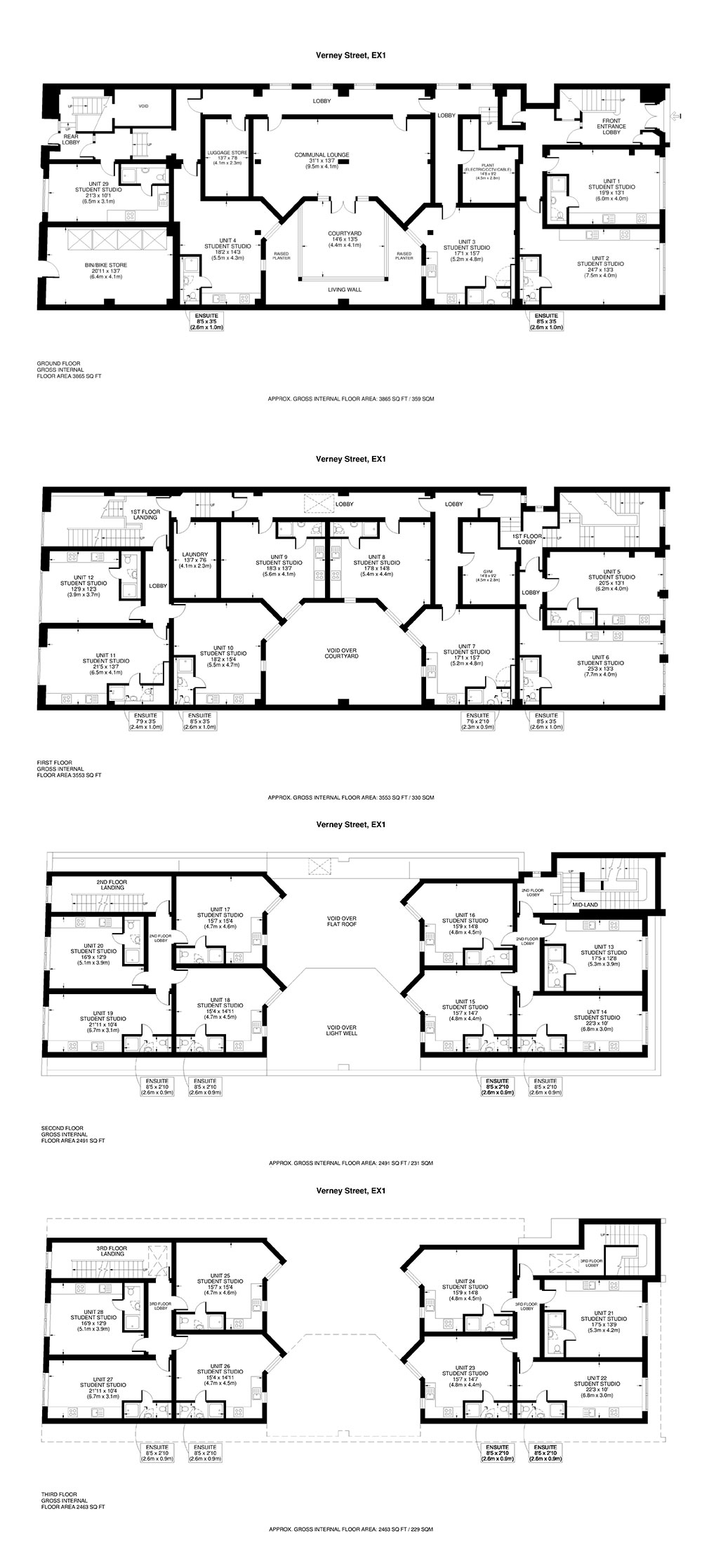 Zoom
Financials
Share Valuation
Rental Income Breakdown
Funding Target

£1,682,700
Shares

1,000,000
=
Purchase Price

£3,600,000
Purchase Costs

£242,700
Stamp Duty

£107,996
Legal & Prof Fees

£74,120
Furnishings

£21,750
Pre-let expenses

£2,234
Repairs Provision

£15,000
Mortgage Arrangement Fees

£21,600
Mortgage

- £2,160,000
Funding Target

£1,682,700
Residential property investment is a total returns product. This information is the income component only. Increasing capital values have historically driven most of the return.
Gross Rent per year (E)

£299,520
Service Charges

- £48,137
Gross Rental Revenue

= £251,383
Gross Rental Yield

6.98%
Costs

- £136,437
Annual Interest Payment

£82,296
Letting and Management

£11,457
Property Insurance

£3,440
Allowance for possible voids

£5,760
Maintenance Allowance

£6,521
Corporation Tax

£26,963
Dividends per year

= £114,946
Note: UK taxpayers are currently entitled to a £5,000 annual dividend allowance. This means that the total income related tax you pay is no greater than if you were to own the property directly. Gross rent and dividends may be lower than estimated. Tax treatment depends on individual circumstances and may be subject to change in future. See FAQs for more information on taxation. The Dividend Yield assumes an investment at the Latest Valuation.
Location
9 Verney Street, EX1 2AW,