Crossrail

London

Specialist

UK

Ungeared
Investment Case
Investors paid 50.96p per share in the New Listing for this property, and it became available on the Resale market August 19th 2015.
A rare opportunity in central London, Zone 1 - this is our third flat from Tower Mint Apartments.
We believe that Tower Hill and this property have a compelling investment case underpinned by two factors:
The property is exceptionally well located, just 300m from Tower Bridge and 700m from the iconic 'Gherkin' building of London's financial district. Stations that are within 850m of the property connect the area to the London Underground, Docklands Light Railway and train networks.
The gross rental yield and dividend yield for the property are unusually high for prime central London. This is partly due to the purchase price secured, and partly because we have secured a contract with a 'serviced apartment' operator which eliminates voids and reduces costs.
Read more detail on the investment case here.
Important Note
Property Partner does not provide advice and nothing in this Overview should be construed as investment or tax advice. The information which appears in this Overview is for general information purposes only and does not constitute specific advice.

+ More
- Less
Property Detail
The flat was acquired vacant and in good condition and the Chartered Surveyor's report identifies no material issues. We have made a provision of £1,200 for tests that are required, for any remedial works that the testing reveals, and for minor, sundry items listed in the surveyor's report. There is also a provision of £1,200 for furnishings.
The property was income-generating from August 19th, based on a contract we have secured with a 'serviced apartment' operator. They have contracted to pay the rent on the entire building for 27 months, and we expect to be able to renew this contract, or a similar form, immediately thereafter. This arrangement eliminates 'void periods' and also management burden, allowing us to reduce our fee on rental income down to 6% (+VAT).
After accounting for building service charges payable to the Freeholder for block management, maintenance and insurance of the building, this equates to a Gross Rental Yield of 3.89% and a forecast Dividend Yield of 2.68% (fully accounting for purchase costs, furnishings, remedial cosmetic works, forecast maintenance, annual voids, corporate taxation and all fees). From April 2016 UK taxpayers are entitled to a £5,000 annual dividend allowance. See our FAQs here for more information.

For prudence, we haven't included any growth in rental values in our forecasts - any growth in rent (on contract renewal) would be incremental to our forecasts.
This transaction was approved by our RICS qualified Director of Property. 
+ More
- Less
Floorplan
A two-bedroom, first-floor flat with an open plan living room and kitchen, and separate family bathroom. The master bedroom also has an en-suite shower room.
The flat has the benefit of a communal garden.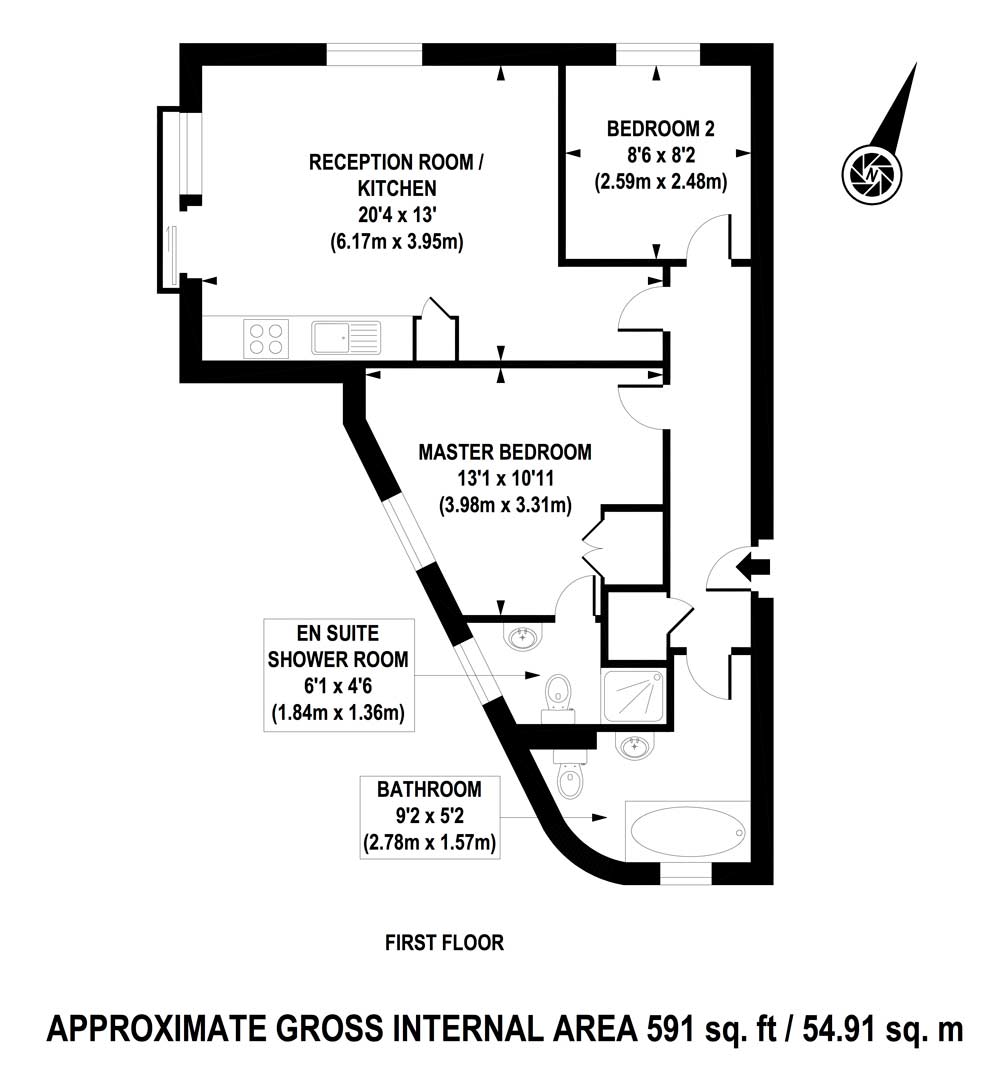 Zoom
Financials
Share Valuation
House Price Index
Rental Income Breakdown
Latest Valuation

£579,877
Shares

1,000,000
=
Latest Share Valuation

57.99p
Latest Property Value

£580,000
Amortised Purchase Costs

£11,296
Deferred Tax

- £11,420
Latest Valuation

£579,877
Note: The estimates provided do not constitute valuation advice; it remains your responsibility to determine valuation.
Land Registry Data Tower Hamlets
The HPI is an official statistic that captures changes in the value of residential properties across England and Wales. It is published by the Land Registry, which is a UK government organisation.
5 Years
+10.6% Annualised
Note: Past performance is not a reliable indicator of future results.
Residential property investment is a total returns product. This information is the income component only. Increasing capital values have historically driven most of the return.
Gross Rent per year (E)

£23,660
Service Charges

- £1,100
Gross Rental Revenue

= £22,560
Gross Rental Yield

3.89%
Costs

- £6,625
Letting and Management

£1,704
Property Insurance

£0
Maintenance Allowance

£1,183
Corporation Tax

£3,738
Dividends per year

= £15,935
Note: UK taxpayers are currently entitled to a £5,000 annual dividend allowance. This means that the total income related tax you pay is no greater than if you were to own the property directly. Gross rent and dividends may be lower than estimated. Tax treatment depends on individual circumstances and may be subject to change in future. See FAQs for more information on taxation. The Dividend Yield assumes an investment at the Latest Valuation.
Location
Flat 3, Flat 3, Tower Mint Apartments, Tower Hill, London, E1 8JX,