Crossrail

London

UK

Ungeared
Investment Case
Investors paid 17.01p per share in the New Listing for this property, and it became available on the Resale market March 6th 2015.
We believe that Ilford and this property have a compelling investment case underpinned by two factors:
Important Note
Property Partner does not provide advice and nothing in this Overview should be construed as investment or tax advice. The information which appears in this Overview is for general information purposes only and does not constitute specific advice.
+ More
- Less
Property Detail
Contracts were exchanged on Feb 6th and purchase completed on March 6th2015.
The total rent forecast is £11,400 per annum. After accounting for building service charges payable to the Freeholder for block management, maintenance and insurance of the building, this equates to a Gross Rental Yield of 4.76% and a forecast Dividend Yield of 2.95% (fully accounting for purchase costs, furnishings, remedial cosmetic works, forecast maintenance, annual voids, corporate taxation and all fees). From April 2016 UK taxpayers are entitled to a £5,000 annual dividend allowance. See our FAQs here for more information.
For prudence, we haven't included any growth in rental values in our forecasts. However, it is worth noting that JLL forecast rental growth of +27.6% from the end of 2014 through to the end of 2020, for the area around Ilford station.
This transaction was approved by our RICS qualified Director of Property.
+ More
- Less
Floorplan
A one-bedroom flat with a separate living room, kitchen and bathroom.
The flat is on the first floor – traditionally seen as the most desirable floor in a multi-storey block, since the first floor requires very few stairs to be climbed, while safety is better than on the ground floor.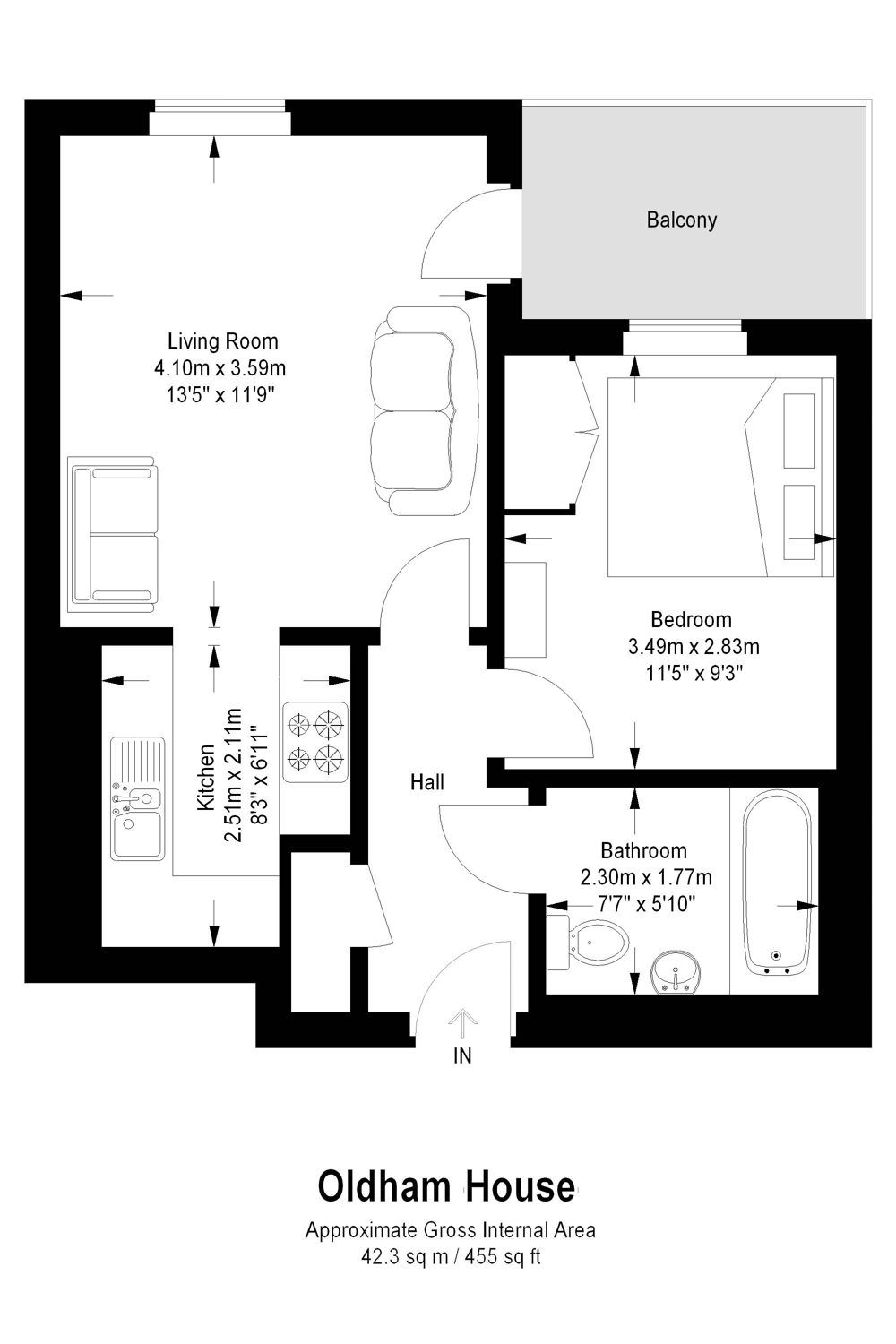 Zoom
Financials
Share Valuation
House Price Index
Rental Income Breakdown
Latest Valuation

£208,999
Shares

1,000,000
=
Latest Share Valuation

20.90p
Latest Property Value

£215,000
Amortised Purchase Costs

£2,479
Deferred Tax

- £8,480
Latest Valuation

£208,999
Note: The estimates provided do not constitute valuation advice; it remains your responsibility to determine valuation.
Land Registry Data Newham
The HPI is an official statistic that captures changes in the value of residential properties across England and Wales. It is published by the Land Registry, which is a UK government organisation.
5 Years
+11.1% Annualised
Note: Past performance is not a reliable indicator of future results.
Residential property investment is a total returns product. This information is the income component only. Increasing capital values have historically driven most of the return.
Gross Rent per year (E)

£11,400
Service Charges

- £1,170
Gross Rental Revenue

= £10,230
Gross Rental Yield

4.76%
Costs

- £3,913
Letting and Management

£1,343
Property Insurance

£0
Allowance for possible voids

£658
Maintenance Allowance

£430
Corporation Tax

£1,482
Dividends per year

= £6,317
Note: UK taxpayers are currently entitled to a £5,000 annual dividend allowance. This means that the total income related tax you pay is no greater than if you were to own the property directly. Gross rent and dividends may be lower than estimated. Tax treatment depends on individual circumstances and may be subject to change in future. See FAQs for more information on taxation. The Dividend Yield assumes an investment at the Latest Valuation.
Location
Flat 6, 3A, Grantham Road, Manor Park, London, E12 5AH,