Investment Case
Investors paid 51.84p per share in the New Listing for this property, and it became available on the Resale market February 4th 2016.
This imposing Victorian building stands just a short walk from the beach and offers a compelling investment opportunity in the seaside town of Eastbourne, East Sussex. The block comprises 7 flats which are available with gearing for enhanced returns.
The investment comprises all 7 flats in this property and is geared at 50% loan-to-value (LTV) of the purchase price. Gearing gives enhanced exposure to property price movements, and the potential for amplified returns; though investors must note amplified negative returns if prices fall.
The property is in Eastbourne, in the South-East of England. Savills, in their forecasts for house price growth by region, have this as the region of the country they expect to appreciate most in value over the next 5 years - a predicted 21.6% (2016: 7%, 2017: 4%, 2018: 4%, 2019: 3%, 2020: 2%).
Eastbourne is the second fastest-growing seaside town in the UK and is the economic driver of one of the fastest-growing counties in the country. Eastbourne has a broad economic base and is home to companies in a wide range of industries.
The eye-catching seafront and the iconic cliff at Beachy Head

 

has

 

been used for many scenes in feature films and is an attractive location for families with many local amenities and parks.
Our exit strategy is to sell the units individually rather than as a single investment, thereby realising the discount that we have secured from buying in bulk.
You can read more on the investment case, here.
Important Note
Property Partner does not provide advice and nothing in this Overview should be construed as investment or tax advice. The information which appears in this Overview is for general information purposes only and does not constitute specific advice.

+ More
- Less
Property Detail
The mortgage is provided by a major high street bank and has a two-year fixed interest rate of 4.00%. After this two-year period, the interest rate will switch to a variable rate based on the bank's base rate. At that point, we will assess the situation and either continue with the variable rate or fix the interest rate for an additional period. We have assumed a constant cost of debt and no rental growth in our annual income forecast. Please refer to our blog post on geared property for further details.
Our investment comprises an unbroken block of 7 flats (5 two-bedroom and 2 one-bedroom), as well as the Freehold interest for the building. We have achieved this off-market sale through our specialist networks, directly from the vendor.
The property has been acquired in reasonable condition. The Chartered Surveyor's report identifies no material issues however it notes that some work is needed to parts of the common areas. To provide reasonable estimates, we have carried out a further inspection ourselves and made a provision of £25,000 for improvements to the common areas and any remedial works that further testing reveals. There is also a provision of £3,360 for furnishings.
The total rent forecast is £56,400 per annum. The number of vacant flats may vary month to month. For prudence we have factored into our forecasts an annual void rate of 3.8% and have not included any growth in rental values.
At the forecasted level of rent, Gross Rental Yield would be 5.05% and the forecast Dividend Yield 2.74% (fully accounting for and after mortgage interest payments, purchase costs, furnishings, remedial cosmetic works, forecast maintenance, annual voids, corporate taxation and all fees). From April 2016 UK taxpayers are entitled to a £5,000 annual dividend allowance. See our FAQs here for more information.
This transaction was approved by our RICS qualified Director of Property.
+ More
- Less
Floorplan
The property comprises 7 purpose built flats - 5 two-bedroom and 2 one-bedroom.
All the flats contain a living room, kitchen and bathroom. We present here floorplans for 4 of the flats as examples.
There is also parking available.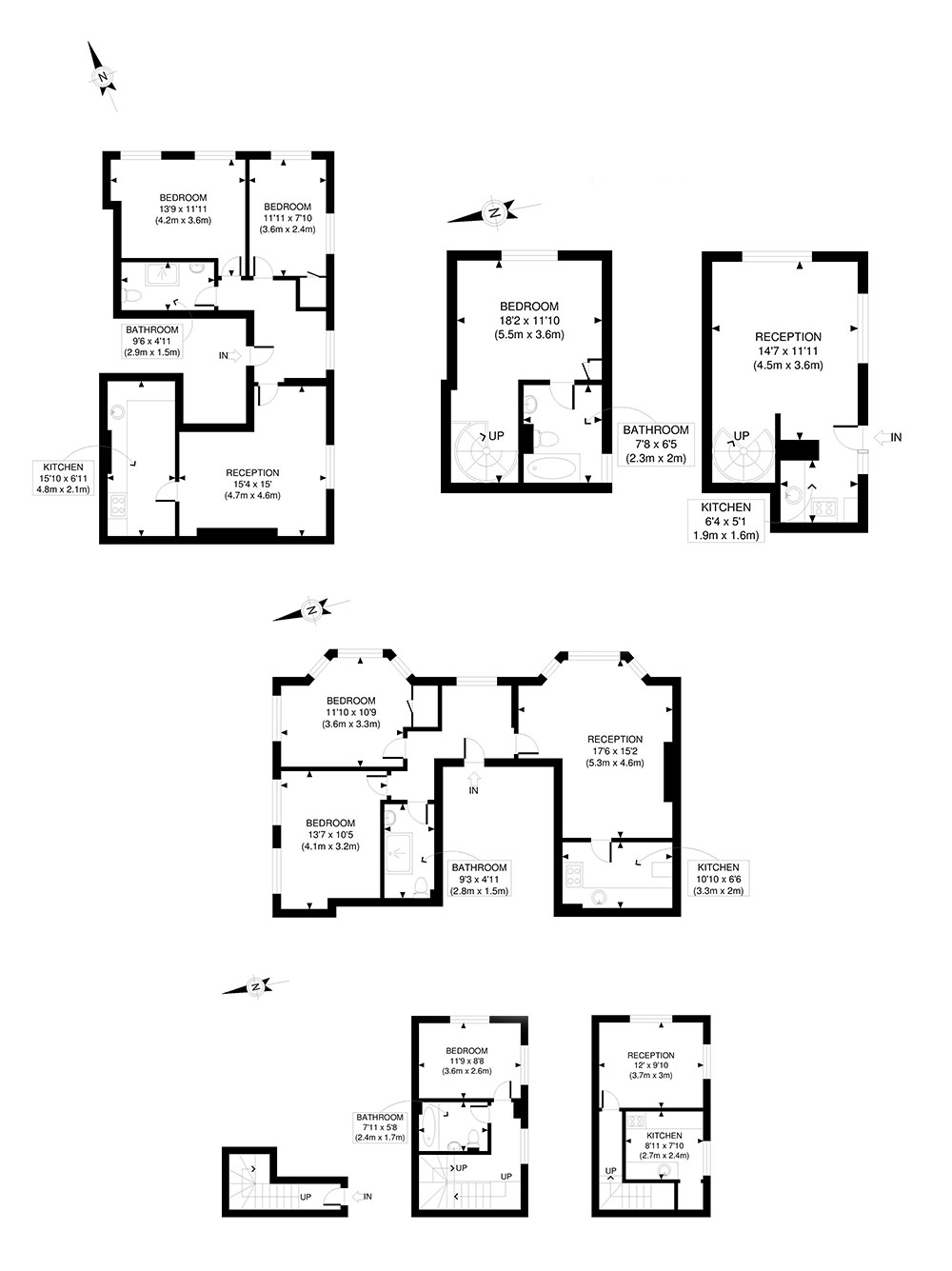 Zoom
Financials
Share Valuation
House Price Index
Rental Income Breakdown
Latest Valuation

£663,793
Shares

1,000,000
=
Latest Share Valuation

66.38p
Latest Property Value

£1,116,500
Amortised Purchase Costs

£40,454
Mortgage

- £467,125
Deferred Tax

- £26,036
Latest Valuation

£663,793
Note: The estimates provided do not constitute valuation advice; it remains your responsibility to determine valuation.
Land Registry Data East Sussex
The HPI is an official statistic that captures changes in the value of residential properties across England and Wales. It is published by the Land Registry, which is a UK government organisation.
Note: Past performance is not a reliable indicator of future results.
Residential property investment is a total returns product. This information is the income component only. Increasing capital values have historically driven most of the return.
Gross Rent per year (E)

£56,400
Service Charges

- £0
Gross Rental Revenue

= £56,400
Gross Rental Yield

5.05%
Costs

- £37,781
Annual Interest Payment

£18,685
Letting and Management

£6,779
Property Insurance

£900
Allowance for possible voids

£2,169
Maintenance Allowance

£4,881
Corporation Tax

£4,367
Dividends per year

= £18,619
Note: UK taxpayers are currently entitled to a £5,000 annual dividend allowance. This means that the total income related tax you pay is no greater than if you were to own the property directly. Gross rent and dividends may be lower than estimated. Tax treatment depends on individual circumstances and may be subject to change in future. See FAQs for more information on taxation. The Dividend Yield assumes an investment at the Latest Valuation.
Location
Thornwood, Eastbourne, Eastbourne, BN21 3YB,