Hounslow, London, TW4
15 Heathlands Way
2 Bed House |
Freehold
Latest Valuation

£284,125
Current Investors

811
Dividend Yield

3.15%
Last Year HPI

+11.3%
Latest Share Valuation

28.41p
Lowest Share Price

27p
Discount

4.96%
Investment Case
Investors paid 26.24p per share in the New Listing for this property, and it became available on the Resale market February 6th 2015.
This property is based in the London Borough of Hounslow. We believe this property is an appealing investment for two reasons:
The closest stations are Hounslow Central Underground station, on the Piccadilly line, and the Hounslow mainline station. Both stations are 15-20 minutes away by a combination of bus and foot. The Treaty Shopping Centre is a similar distance away. Hounslow Central is three tube stops away from Heathrow, a major employment hub that is due to benefit from a Crossrail connection. A regular bus route runs along the main road that is 4 minutes away by foot.
The property is set within a cul-de-sac situated within a larger estate of similar houses built by Crest Homes approximately 25 years ago – in keeping with much of this area. The open expanse of Hounslow Heath and golf course is 25m away across Frampton Road.
You can read more on the investment case here.

Important Note
Property Partner does not provide advice and nothing in this Overview should be construed as investment or tax advice. The information which appears in this Overview is for general information purposes only and does not constitute specific advice.
+ More
- Less
Property Detail
The property was previously tenanted and, whilst structurally sound, was a little 'tired' in terms of decorative order. As such, we undertook works to bring the property up to a good and lettable condition in accordance with the Chartered Surveyor's report. We anticipate the refurbishment will reduce ongoing maintenance expenditure in the short to medium term.
The Chartered Surveyor's report at purchase stated a Market Value (MV) of £250,000 for the property in its current condition, and £265,000 on completion of the works. This compared reasonably to the aggregate purchase cost of £249,075, which together with the forecast cost of works of £9,240 equates to £258,315.
The Latest Valuation is based on a more recent Chartered Surveyor's valuation and updated periodically based on indexed HPI data.
The property is let at a value of £1,200 per month, which equates to a Gross Rental Yield of 5.05% at the Latest Valuation.
This results in a forecast Dividend Yield of 2.99% at the Latest Valuation (fully accounting for fees, purchase costs, cost of renovation, estimated voids, estimated maintenance, and corporate taxation). UK taxpayers are entitled to a 10% dividend tax credit, prior to April 2016. After this date, the credit is to be replaced with a £5,000 annual dividend allowance. See our FAQs here for more information.
+ More
- Less
Floorplan
A mid-terrace two-bedroom arranged over two floors, with a garden to the rear and off-street parking at the front.
The ground floor comprises a kitchen and a reception room with a glass sliding door to the garden.
The first floor comprises two bedrooms and family bathroom.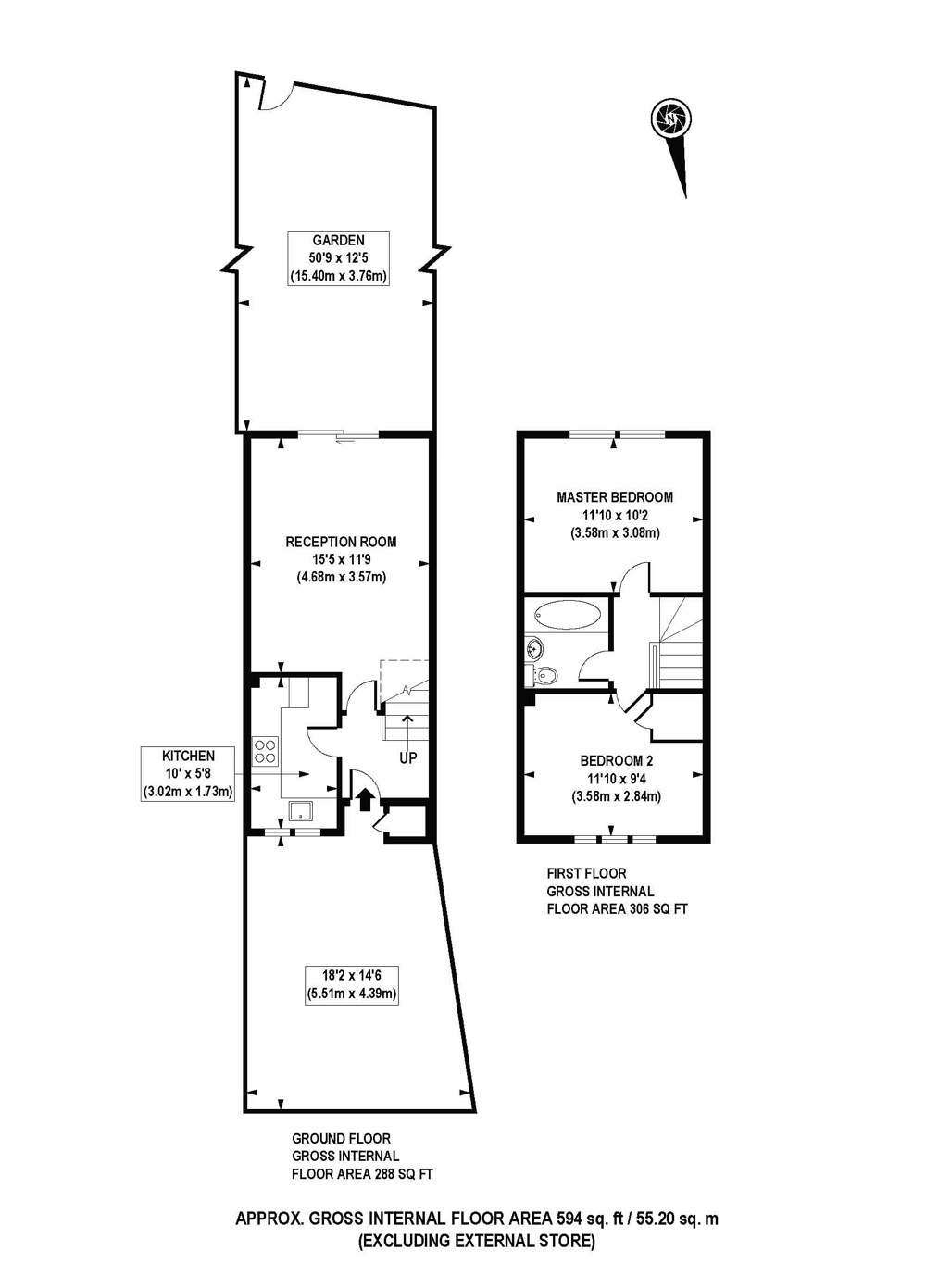 Zoom
Financials
Share Valuation
House Price Index
Rental Income Breakdown
Latest Valuation

£284,125
Shares

1,000,000
=
Latest Share Valuation

28.41p
Latest Property Value

£285,000
Amortised Purchase Costs

£2,531
Deferred Tax

- £3,406
Latest Valuation

£284,125
Note: The estimates provided do not constitute valuation advice; it remains your responsibility to determine valuation.
Land Registry Data Hounslow
The HPI is an official statistic that captures changes in the value of residential properties across England and Wales. It is published by the Land Registry, which is a UK government organisation.
3 Years
+10.2% Annualised
Note: Past performance is not a reliable indicator of future results.
Residential property investment is a total returns product. This information is the income component only. Increasing capital values have historically driven most of the return.
Gross Rent per year (E)

£14,400
Service Charges

- £0
Gross Rental Revenue

= £14,400
Gross Rental Yield

5.05%
Costs

- £5,679
Letting and Management

£1,696
Property Insurance

£395
Allowance for possible voids

£831
Maintenance Allowance

£678
Corporation Tax

£2,079
Dividends per year

= £8,721
Note: UK taxpayers are currently entitled to a £5,000 annual dividend allowance. This means that the total income related tax you pay is no greater than if you were to own the property directly. Gross rent and dividends may be lower than estimated. Tax treatment depends on individual circumstances and may be subject to change in future. See FAQs for more information on taxation. The Dividend Yield assumes an investment at the Latest Valuation.
Location
15, Heathlands Way, Hounslow, Hounslow, TW4 5BU,